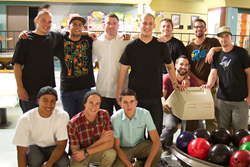 Respect for women is one of the greets gifts a father can show to a son.
Los Angeles, CA (PRWEB) May 20, 2014
Although substance abuse does not cause domestic violence, the two are markedly connected. Because most offenders are men, New Life House sees a partnership with No Silence No Violence as an integral part of educating young men about the many different levels substance abuse can escalate to.
New Life House strives to educate these young men about the reality of domestic abuse fueled by addiction. They strive to teach prevention through healthy alternatives for expressing anger before it ever reaches a potentially harmful state.
"We are one part of the collective whole of recovery and this is a global issue. If we can stop one incident of battery against a woman as a result of being proactive I will feel we have been a success," says Mike Joly. Many young men come to new Life House with dysfunctional relationships with the opposite sex. How men treat women is of paramount importance to Mike.
The U.S. Department of Justice reports that 61% of domestic violence offenders also have substance abuse problems. The National Coalition Against Domestic Violence states that men who batter frequently use alcohol abuse as an excuse for their violence. They attempt to rid themselves of responsibility for their violence by blaming it on the effects of alcohol.
No Silence No Violence is a non-profit organization started by Jessica Yaffa. Her ex-husband is an alcoholic & addict currently serving a 29-year prison sentence for domestic abuse of which she is the survivor. Jessica is committed to creating awareness, providing education and resources regarding the crossover of domestic abuse and addiction. To understand more of how No Silence No Violence can help those affected by this epidemic click here.
New Life House endeavors to raise the bar on what it means to experience healthy, loving relationships. They demonstrate to young addicts that respecting women is an essential part of being a man.
To find out more about how New Life House can help young men with substance abuse go to http://newlifehouse.com.