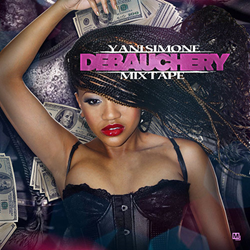 Whether I'm writing or singing about joy or pain, it's the emotion and passion that connect me with my audience. Music is an emotional experience.
Atlanta, GA (PRWEB) May 20, 2014
Coast 2 Coast Mixtapes announce the release of the "Debauchery" mixtape by Yani Simone. The 9 track project is currently available for download. The mixtape was produced by Lynx Lewis for Outliers Music Group.
Yani Simone is a singer songwriter from Atlanta, GA. Dreaming of being an entertainer since she was a young girl playing dress up with her friends, Yani has followed her dreams and found that with some hard work and dedication dreams do come true. Heavily influenced by her home town of Atlanta, Yani is part of the new south creating a style that combines her southern roots with the music of the most prominent women in the music industry such as Beyoncé, Rihanna, Pink, and Nicki Minaj. Upfront and honest, Yani's no filter say what needs to be said attitude toward her music makes her an inspiration for young women throughout the South and the country.
Reflecting on her life experiences, Yani's music not only expresses her triumphs but draws from her hardships creating dynamic songs that truly pull on the heartstrings. Her connection with her audience lies in their shared emotions and passion, turning every performance into an authentic and impactful experience. With appearances on The Steve Harvey Show and training at Chicago's Columbia College, Yani is a true entertainer showcasing talents in vocal performance, songwriting, acting, and dance. Currently signed to Atlanta's Houghton Talent agency and Outliers Music Group, Yani has assembled a team of industry professionals who are working hard to guarantee success for this sure to win talent.
Yani Simone's most recent release entitled "Debauchery" is a mixtape that sets the tone for this strong, seductive, and sexy woman. Her lead single off the mixtape entitled "No Fuks Given" featuring Young Talent and Rio Esocobar is an honest and uncensored look at Yani's very edgy, straight to the point lyrics featured across the mixtape. Building on the momentum generated form her first hit single "Forever 21", "Debauchery" has been raising eyebrows of industry professionals across the South. The anticipation for her follow up single "Blow" featuring up and coming Atlanta Rapper King Jai has surpassed any buzz she has previously generated. Do not sleep on this major talent coming out of Atlanta, keep up with Yani Simone on her Twitter page at @callmeyani.
About Coast 2 Coast Mixtapes
Coast 2 Coast Mixtapes are the most widely distributed mixtapes in the world, with over 100 million downloads/plays generated by over 200 volumes officially hosted by major artists. Coast 2 Coast has a solid reach in the new music industry with a digital magazine, DJ coalition, industry tips blog, yearly convention, and more. Coast 2 Coast Mixtapes represents a unique opportunity for artists of all urban genres, from major to indie. For more information, visit http://www.coast2coastmixtapes.com.