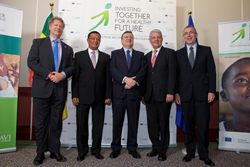 Brussels (PRWEB UK) 20 May 2014
The GAVI Alliance today called on donors to back ambitious plans to immunise an additional 300 million children against potentially fatal diseases between 2016 and 2020 and save a further five to six million lives.
By investing together in a healthy future, Alliance partners can build on the unprecedented success which has put developing countries on track to immunise close to half a billion additional children between 2000 and 2015, saving approximately six million lives. Additional investments for the 2016-2020 period could double the total number of lives saved through GAVI-supported vaccines since 2000.
An acceleration is necessary because, despite an unprecedented increase in vaccine programmes in developing countries, 1.5 million children die each year of vaccine-preventable diseases and one in five children worldwide do not receive a full course of even the most basic vaccines.
The GAVI Alliance today set out an investment case that demonstrates how donors can support the world's poorest countries to secure and expand their immunisation programmes, which protect children against illnesses such as pneumococcal disease and rotavirus, the leading vaccine-preventable causes of pneumonia and diarrhoea, between 2016 and 2020.
The economic benefits of fully funded, sustainable vaccine programmes would result in US $80 to $100 billion in gains for developing countries through increased productivity and reductions in the cost of treating illnesses that would have been prevented through immunisation.
As GAVI-supported countries grow more prosperous, they can assume greater responsibility for their immunisation programmes. Between 2011 and 2015, countries have contributed approximately US$ 470 million. This will grow to US$ 1.2 billion in the 2016-20 period, making developing countries one of the largest contributors to the Alliance. By 2020, it is projected that 22 countries will have graduated and taken over full financing of their GAVI-supported vaccines, marking a new era of increased sustainability.
"We are faced with an historic opportunity to support countries to build sustainable immunisation programmes that will protect entire generations of children," said Dagfinn Høybråten, Chair of the GAVI Alliance. "The investments we all make now can ensure the equivalent of two children every second will be reached with GAVI-supported vaccines for five years and secure the future health and economic prosperity of all our children in years to come."
The overwhelming benefits of investing in the Alliance were set out at a meeting hosted today in Brussels by European Development Commissioner Andris Piebalgs. The meeting was opened with a keynote speech from José Manuel Barroso, President of the European Commission, who demonstrated the EU's long-term commitment to supporting the GAVI Alliance to save lives through immunisation by pledging an additional €175 million for the period 2014-2020.
"The EU is delighted to host the GAVI conference here in Brussels," said Commissioner Piebalgs. "It sends a clear message of our long-term commitment to our partnership, and to our joint work to save lives and help to prevent the further unnecessary loss of life which could be prevented by a simple vaccine."
The GAVI Alliance is today asking donors to invest an additional US$ 7.5 billion to support developing countries' immunisation programmes from 2016 to 2020. These commitments would be added to the US$ 2 billion already available to GAVI for the period to ensure that Alliance-supported programmes are fully funded up to 2020.
"Immunisation is protecting the lives of children across Ethiopia," said President Mulatu Teshome of the Federal Democratic Republic of Ethiopia. "I urge all parties to come together to ensure that this important work can continue so that children in countries like Ethiopia will have the best possible chance to grow into healthy, productive adults."
Through its effective public-private partnership model, the GAVI Alliance does not simply rely on contributions from sovereign and corporate donors. Along with developing countries' co-financing commitments, the Alliance works with vaccine manufacturers to reduce prices for GAVI-supported countries.
The Alliance's market-shaping efforts have led to a 37% decrease in the cost for a GAVI-eligible country to vaccinate a child with pentavalent, pneumococcal and rotavirus vaccines since 2010. This work is set to continue with a call for vaccine manufacturers to further lower their prices for developing countries.
"The GAVI Alliance model is effective because it brings donors, vaccine manufacturers, developing countries and other partners together to immunise children," said Dr. Seth Berkley, CEO of the GAVI Alliance. "With the synergy of each partner working together we have the opportunity to change the lives of millions of children living in the most difficult circumstances."
Also at the meeting, Thomas Silberhorn, Parliamentary State Secretary to the Federal Minister for Economic Co­operation and Development, announced that Germany will host the GAVI Alliance replenishment meeting. The date and location of the meeting will be announced later this year.
Note to editors:

To read The 2016-2020 GAVI Alliance Investment Opportunity, please follow this link: http://www.gavialliance.org/replenishment-launch/
Broadcast quality footage and photographs of the event, provided by Europe by Satellite, can be found here: http://ec.europa.eu/avservices/ebs/schedule.cfm
The term lives saved is used throughout this document to denote the impact of GAVI Alliance investments in terms of future deaths averted through the prevention of death due to infectious diseases in childhood as well as death due to cancer in adulthood. Immunisation averts deaths over the lifetimes of vaccinated children by providing immunological protection from a young age. Some vaccines, for example human papillomavirus (HPV) vaccine, prevent deaths due to cancer decades in the future, through protection conferred at the time of immunisation.
The GAVI Replenishment is the process by which donors, developing countries, and vaccine manufacturers come together to mobilise the resources needed to support expanded immunisation programmes in poor countries.
In 2011, donors committed to fully fund GAVI Alliance programmes for the 2011-2015 period, making $7.4 billion available to support immunisation programmes through the Alliance.
In early May, African leaders pledged their support for sustainable immunisation programmes and called on the GAVI Alliance to step up its efforts on the continent. The Immunise Africa 2020 leaders' declaration was launched by President Macky Sall of the Republic of Senegal and President Jakaya Kikwete of the United Republic of Tanzania who joined Donald Kaberuka, President of the African Development Bank, at the World Economic Forum on Africa, held in Abuja.
Whilst most contributions to the GAVI Alliance come in the form of direct funding, some donors may also make long-term commitments through the International Finance Facility for Immunisation (IFFIm). IFFIm receives binding pledges for future contributions from donor governments, and then issues investment-grade bonds in the international capital markets against these pledges. Proceeds from bond issuances are used by GAVI to support vaccine programmes. Bondholders are repaid in the medium and long term using the funds received when donors deliver on their pledges.
About the GAVI Alliance
The GAVI Alliance is a public-private partnership committed to saving children's lives and protecting people's health by increasing access to immunisation in poor countries. The Alliance brings together developing country and donor governments, the World Health Organization, UNICEF, the World Bank, the vaccine industry, technical agencies, civil society, the Bill & Melinda Gates Foundation and other private sector partners. GAVI uses innovative finance mechanisms, including co-financing by recipient countries, to secure sustainable funding and adequate supply of quality vaccines. Since 2000, GAVI has contributed to the immunisation of an additional 440 million children and the prevention of approximately 6 million future deaths. Learn more at http://www.gavialliance.org and connect with us on Facebook and Twitter.
The GAVI Alliance is funded by governments (Australia, Canada, Denmark, France, Germany, India, Ireland, Italy, Japan, Luxembourg, the Netherlands, Norway, Republic of Korea, Russia, South Africa, Spain, Sweden, United Kingdom, and United States), the European Commission, the OPEC Fund for International Development (OFID), the Bill & Melinda Gates Foundation, and His Highness Sheikh Mohamed bin Zayed Al Nahyan, as well as private and corporate partners (Absolute Return for Kids, Anglo American plc., the A&A Foundation, The Children's Investment Fund Foundation, Comic Relief, the ELMA Vaccines and Immunization Foundation, JP Morgan, "la Caixa" Foundation, LDS Charities, Lions Club International Foundation, and Vodafone).
To access broadcast-quality footage from the GAVI library, please visit: http://www.gavi-video.org/content/index.asp.
Media interest
Rob Kelly
GAVI Alliance
Tel: +41 22 909 2978
Mob: +41 79 745 2031
Email: rkelly(at)gavialliance(dot)org