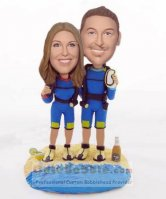 (PRWEB) May 21, 2014
Recently, CuteBobble.com, a famous bobblehead supplier in the global market, has announced its new designs of personalized bobbleheads. This morning, the company's chief executive officer states that all its high quality items are available at discounted rates, up to 30% off. The special offer will come to an end on June 26, 2014.
CuteBobble.com is an outstanding online supplier. It has been devoted to designing and manufacturing funny personalized bobbleheads for decades. It is now selling various kinds of novel figurines for old and new customers: scuba diving wedding cake toppers, superman bobbleheads cake toppers, riding car wedding bobblehead cake toppers and many others. All these unique figurines are brand new.
As a matter of fact, CuteBobble.com is also providing low shipping fees for worldwide clients. It sincerely hopes to help all people to make the important days memorable. The company persists in offering fast delivery; all its items are promised to be delivered on time.
What's more, all its personalized bobbleheads are featured with innovative designs, lively looks and nice craftsmanship. Therefore, plenty of the company's figurines are popular in the market. By offering the big discounts, the company wants to help all clients get high quality items without paying large amounts of money.
About CuteBobble.com
As one of the most popular supplier of cute bobblehead dolls, CuteBobble.com is now offering various kinds of interesting items for worldwide customers. The company has thousands of loyalty customers at home and abroad. It wants to help all people to make their big days memorable and funny. Many of its items are hot in the market: wedding bobblehead cake toppers, groomsman bobbleheads, office lady bobbleheads and so on.
More details at: http://www.cutebobble.com/.