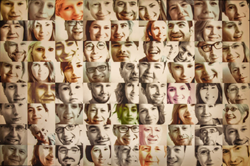 The I Love You Project celebrates diversity, love, peace.
Kiev, Ukraine (PRWEB) May 22, 2014
THE I LOVE YOU PROJECT® - an interactive social visual art project celebrating diversity - comes to Kiev, Ukraine in July. The multi-media art installation including video, sound, and photos will be on exhibit July 3-5, 2014 at 8Bit Gallery. Participants from prior events including Berlin, Frankfurt, Giessen and Barcelona will be on display. Images were captured by New York-based Debbie Davies using a digital microscope camera; sound recording and music composition created by Germany-based Julius Schön, and editing by New York-based Kendall Smith and Santina Amato. Davies and Schön will videotape visitors saying "I Love You" in different languages during the exhibition with the intention of bringing together Russian and Ukrainian residents in Kiev. This exhibition is part a global initiative exploring migration and diversity and uniting people within communities by expressing love within the context of a visual art form. 8Bit Gallery is known for exhibiting experimental and socially conscious art and will be the incubator for this next phase of the project. The resulting photos and video will be exhibited later in 2014.
The July Ukraine project will take place during a time of tension and conflict between Ukraine and Russia. Political and military methods for easing tension bring little true peaceful connection between countrymen. Through social art, we find a tool that is less forceful and reaches into the humanity of the residents of Ukraine, to connect people and encourage discussion of peace, tolerance, and inclusion. The project hopes to not only record the Ukrainian and Russian speaking population of Kiev, but show the world the diversity that exists in the immigrant population of this city.
In March 2011 The I Love You Project was conducted in Raval, Spain. New York artist Debbie T. Davies used a digital electronic microscope camera to capture videos and photos of 82 people saying "I love you" in 18 languages in Barcelona. In summer 2012, she visited Frankfurt and Giessen in Germany and captured images and voices of over 80 people representing 32 languages for the Hessen version of the project. During the annual 48 Hour Neukölln festival in 2013 over 120 people participated in Berlin, Germany.
German sound artist Julius Schön records voices separately and creates an original music soundtrack to include participants commentary on love and peace.
The digital microscope camera creates unexpected images that play with skin tone, contrast, color, speed, and light in unexpected ways. Participants say "I Love You" into the camera in whatever language they prefer. The result is a multi-media installation; an immersive experience sharing the diverse faces and voices of the people who live and work in these cities. Video edited by Kendall Smith, Santina Amato, and Debbie Davies, is projected onto screens and plays continuously. Photos are connected to form a large mosaic and illuminated portraits covering walls.
Through this project, the artists hope to unite people of different cultures, religions, and economic level, and show that change begins through love and the courage to connect with strangers. This project is the part of an ambitious global initiative to reproduce this experience in other cities.
Due to the high immigrant populations in the target cities, the artists yield an enormous number of images and languages to become part of future exhibitions. Bringing images and voices from other countries to these exhibitions allows people the chance to share their similarities and marvel at their differences.
Exhibition title: THE I LOVE YOU PROJECT
Location: 8Bit Gallery 111-113 Velyka Vasylkivska Street, Kiev, Ukraine.
Dates & Times.
July 3, 4 and 5 11am-6pm exhibition and photo-video-audio recording
Collaborators:

Debbie T. Davies, Visual Artist
Julius Schön, Sound Artist
Khrystyna Iaroshenko, Visual Artist & Producer
Kendall Smith, Video Editor.
Santina Amato, Video Editor