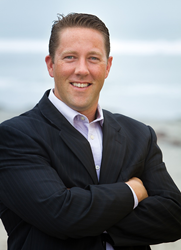 San Diego, CA (PRWEB) May 20, 2014
May 9, 2014: OneTrust Home Loans and OneTrust Senior Lending, mortgage banker of San Diego, California is pleased to announce the appointment of Mr. Kelly Kline as a Regional Manager. Mr. Kline is out of OneTrust's Carlsbad office located at 2784 Gateway Road, Suite 101, Carlsbad, CA.
In 2008, Mr. Kline was Managing Partner/Vice President of Primary Residential Mortgage, LLC. Along with a partner, he started a mortgage division of 8 employees and built it to over 100 employees doing business in 4 states, and 8 locations. Prior to Primary Residential Mortgage, he was a Branch Manager with Charter Funding. Kelly ran the highest producing branch for Charter Funding out of 55 locations in the state of California. With an Internet lead based model, Kelly managed both sales and operations through database managing tools and accountability performance metrics. He built a sales team of over 25 loan originators.
"I joined OneTrust so I can better support my trusted clients and partners with whom I do business. My goal remains the same – to provide them with the highest level of professionalism and clarity while they navigate through the home loan process. OneTrust gives me the tools to ensure my clients will be well cared for, access to incredible state-of-the-art technology, an opportunity to work along-side seasoned industry leaders that understand the mortgage business, and an ability to offer competitive loan products to the Carlsbad community," says Kelly.
In his new role, Mr. Kline will oversee the day-to-day operations of the Carlsbad branch along with a major role in recruiting and loan officer retention throughout San Diego County.
"In his 14 years of experience forging a successful career in the mortgage industry, Kelly has consistently seized every opportunity to exceed the expectations of his clients and colleagues with his commitment to integrity, professionalism and leadership. We are excited to have this talented and recognized member of the real estate community as part of the OneTrust team. Kelly's knowledge of this market is going to make a big impact on our efforts," said Josh Erskine, CEO of OneTrust Home Loans and OneTrust Senior Lending. "We are committed to the growth in Carlsbad, and this latest announcement is just another step in our efforts to strengthen our company's presence in that community."
*****
About OneTrust Home Loans and OneTrust Senior Lending
OneTrust Home Loans is a direct lender and servicer with sales and operations across the country. OneTrust Home Loans provides an array of product options including conventional, FHA, VA, USDA, jumbo, resort lending, and foreign national loan options. OneTrust Home Loans is focused on strategic national growth without compromising its market niche of fast and efficient loan closings and being a home-buying resource for consumers from their search for that special home through closing. OneTrust Senior Lending exclusively offers reverse mortgage products to Seniors 62 and over who need access to their home equity while maintaining homeownership. The company's senior management team has years of experience in successful loan closings. OneTrust Home Loans and OneTrust Senior Lending emphasize customer service as evidenced by their tagline, Service is everything! For additional information, please visit http://www.OneTrustHomeLoans.com and http://www.OneTrustSeniorLending.com.