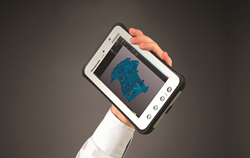 VXremote enables users to better visualize real-time 3D scanned data and change parameters—even when they are far from their laptops
Lévis, QC, Canada (PRWEB) May 21, 2014
Creaform, a worldwide leader in portable 3D measurement solutions and 3D engineering services, today announced the release of VXremote, its remote access software application combined with Creaform-certified rugged tablets (7 in. or 10 in. tablets). VXremote increases users' efficiency in the field by providing fast and easy remote access to VXelements, the 3D software platform that powers Creaform's entire fleet of 3D scanning and measurement technologies.
VXremote enables users to better visualize real-time scanned data and change parameters—even when they are far from their laptops. VXremote is particularly useful when scanning large objects or when the scanning has to be performed in constrained or remote areas. Examples of reverse engineering and quality control projects with which the VXremote can provide remote scanning capabilities and improve efficiency—without sacrificing data quality—include:

Airplanes, cars, boats, trains, trucks
Refineries, pressure vessels and large diameter pipes
Industrial installations
Outdoor heritage, art, or natural objects
Harness, rope, or platform access scanning
VXremote features a simplified process to connect the tablet to the computer and does not require users to have an Internet access to log into their accounts. In addition, as VXremote is optimized with VXelements, it automatically diagnoses connection issues and provides detailed messages to help resolve issues. VXremote is also architecture-ready for future updates.
At the same time as the VXremote release, Creaform announced the availability of a brand-new 3D scanner external battery. This optional battery helps users to use Creaform's 3D scanners when access to electricity is unavailable or too far away, which ultimately increases mobility for outdoor applications as well as scanning large parts or products that are in remote locations.
For more information on VXremote, please contact your local Creaform representative.
About Creaform
Creaform develops, manufactures, and sells 3D portable measurement technologies and specializes in 3D engineering services. The company offers innovative solutions, such as 3D scanning, reverse engineering, quality control, non-destructive testing, product development, and numerical simulation (FEA/CFD). Its products and services cater to a variety of industries, including automotive, aerospace, consumer products, heavy industries, healthcare, manufacturing, oil and gas, power generation, and research and education. With headquarters and manufacturing operations in Lévis, Québec, Creaform operates innovation centers in Lévis and Grenoble, France, and has direct sales operations in the United States, France, Germany, China, Japan, and India.
Creaform is a unit of AMETEK Ultra Precision Technologies, a division of AMETEK Inc., a leading global manufacturer of electronic instruments and electromechanical devices, with annual sales of $3.6 billion.