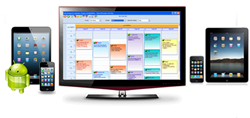 Brooklyn, New York (PRWEB) May 21, 2014
Thoughtful Systems announces the release of SM-Mobile 2.2, its mobile app for service businesses. SM-Mobile runs on Apple and Android devices and creates new efficiencies for management and field service employees. The new features help service business managers gain more control and optimize job scheduling. SM-Mobile works in harmony with Scheduling Manager Gemini, the desktop version, or Scheduling Manager Web Express, the online version of Thoughtful Systems' multi-functional scheduling software for service businesses. SM-Mobile's new features include GPS tracking, time tracking, and photo sharing.
Thoughtful Systems produces field service business software for many industries, including carpet cleaning services, irrigation systems, maid services, fire and water damage restoration, HVAC and plumbing, home health care and fire extinguisher maintenance. It's management software for all aspects of service businesses, including job scheduling, customer data management, CRM features, payroll and more. Scheduling Manager Gemini has helped thousands of field service businesses world-wide organize their employee schedules more efficiently. It simplifies the task of organizing complex job schedules through the use of drag and drop calendars. Other features include payroll and accounts receivable. It interfaces with other accounting software, such as QuickBooks, Sage, and MYOB and mapping software like Microsoft MapPoint and Google Maps, and CRM software such as InfusionSoft.
The live GPS tracking feature in SM-Mobile lets managers track the location of employees throughout the day. Employees can get directions on their smart phones, tablets or iPads. Management at head office can see the location of all employees on a screen in Scheduling Manager Gemini. This also means that Scheduling Manager Gemini can find the optimal employee for a new job assignment – geographic location and job skills are taken into account in performing employee scheduling, and providing optimal appointment times for clients. Optimization features in the software allow for generation of the best and shortest routes from job to job for each employee or team.
Employees can check in or out of the job site with the time-tracking feature. This records the time and GPS coordinates. The same thing happens upon check-out. This provides data that can be used for timecard, payroll and further employee scheduling functions.
Field technicians can take one or more photos of the job site and sync them to the desktop version of Scheduling Manager. This makes it easy to assess a job site for damage and restoration industries, handymen or home repair, HVAC technicians, basement waterproofers, and any other industry that needs a visual record of their jobs. An unlimited number of photos can be recorded in a customer's history, providing a valuable photographic record.
Importantly, SM-Mobile is a native app, so there's no need for a constant Wi-Fi or cell phone signal for all of these impressive features to function. These new features will help business owners identify customer needs and build a better relationship through all interactions – either from the office with the desktop version of Scheduling Manager Gemini, or in the field with the SM-Mobile app and the Web Express version. All three work together to provide a powerful scheduling software solution for any service business.
About Thoughtful Systems:
Thoughtful Systems has been producing field service software for businesses specializing in fire extinguisher maintenance, maid services, irrigation systems, HVAC, plumbing, carpet cleaning services, home health care, fire and water damage restoration, and other field service businesses for over 25 years. Versions are available in the U.S., Canada, the U.K., the UAE, Australia, New Zealand, South Africa and elsewhere. Those interested can find more at http://www.thoughtfulsystems.com/software/schedmgr/service-industry-software.asp or http:// http://www.thoughtfulsystems.com.