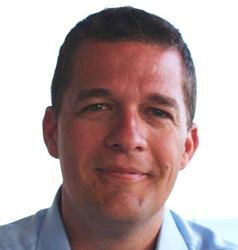 Cambridge, MA (PRWEB) May 21, 2014
Ted Longley has joined Thinking Phone Networks' executive management team as VP, Platform Services. Longley will lead the technical operations team and assume overall responsibility for Thinking Phone Networks' cloud UC platform, including systems architecture, security, scalability, availability, and ongoing platform support.
Longley comes to Thinking Phone Networks from Blackberry, where he spearheaded the network architecture and design efforts for a global network infrastructure that serviced 80 million subscribers in more than 140 countries and included multi-tenant and virtualized hosting models as well as an expansive hybrid cloud deployment. Longley partnered with leading vendors such as Cisco, Juniper, and Brocade to drive increased product capabilities. In addition, he optimized BlackBerry's carrier connectivity strategy, significantly improved the company's infrastructure security model, and grew a global team spanning Canada, the U.S., the U.K., and Singapore.
Prior to Blackberry, Longley worked with SAP application service provider Siemens Business Services, where he was instrumental in improving business continuity, global incident management, and SAP data and security.
"We are excited to have someone with Ted's experience, integrity, and capabilities join our management team," said Steve Kokinos, Thinking Phone Networks President and CEO. "Ted's background and industry knowledge will be instrumental in propelling our continued growth in the unified communications as a service market."
"As an early adopter and champion for virtualized technologies and automation, I'm thrilled about joining Thinking Phone Networks," said Longley. "The level of capability and engagement here is infectious. We have an exciting story to tell, and are well positioned to take UCaaS to the next level. This is an exciting time to join a company poised for international expansion and increased industry recognition."
Thinking Phone Networks offers midsize and larger enterprises deeply integrated and analytics-driven single platform collaboration capabilities spanning voice, mobility (including smartphone and tablet support), video, presence, messaging, conferencing, and contact center. Twice recognized as a Gartner, Inc. Magic Quadrant "Leader," the company's cloud unified communications applications are deployed by enterprises, service providers, PBX vendors, and channel partners at thousands of locations around the globe. Thinking Phone Networks cloud communications services are available for immediate enterprise and service provider deployment. For more information, visit http://www.thinkingphones.com or email info(at)thinkingphones(dot)com.