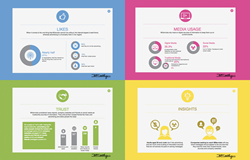 New York, NY (PRWEB) June 04, 2014
The McCarthy Group (TMG), a leading marketing communications and public relations consultancy, announces results of its new "Engaging Millennials: Trust & Attention Survey" which provides insights into the degree which consumers between the ages of 18 and 34 years old considered different sources of information "trustworthy." The survey found most Millennials (84%) do not like or trust all forms of advertising. When asked to rate how much they trust advertising, on a scale from one (the lowest) to five (the highest), the average score was 2.2. In comparison, Millennials rated their closest friends as a trustworthy source of information, with an average score of 4 on the same scale.
"The study reinforces the dynamics of the sharing economy, and how strongly this consumer group relies on online news reports, friends on social media and even company websites as trustworthy sources of information," said TMG Founder and CEO Tami McCarthy.
One surprise revealed by the study surfaced among what Millennials value most, and it was not their mobile phone. When asked what they can't live without, nearly half (47%) said the Internet. In comparison, 35 percent said they cannot live without their best friend, and only 15 percent cited their mobile phone.
When it comes to sources they trust, the study also found that the majority of Millennials rely on social/digital media channels (57%) to keep them up-to-date on current events, as opposed to traditional media sources like TV (20%), radio (5%), and magazines and newspapers (9%). Check out the infographic below for additional insights.
McCarthy adds, "While many brand marketers consider traditional advertising to be a necessity for competitive reasons, it's even more important to pay attention to what gets Millennials' attention and wins their trust. For example, if you haven't paid much attention to your brand's website, you need to show it some love fast. And if you don't have a solid digital content strategy being executed on a continual basis, you are losing valuable opportunities all the time. It's important to get this stuff right now, for the new group of digital natives growing up into powerful consumers."
In its quest to better understand the thoughts and behaviors of Millennials, a key audience for many of its clients, TMG turned to Google Consumer Surveys as a new method to gain these insights from everyday people who are already using the Internet to conduct the business of life.
"Today's world moves quickly, and when we need data, we need it now, which is why we were so eager to work with Google Consumer Surveys. Tapping into the power of Google as a resource for data allows you to customize your survey with the topic, target audience and questions, and provides complete results within days," said TMG Partner Daniel McCarthy. "We found that the service is easy to use, affordable and accurate, and plan to introduce it to many of our clients so that they can always get the pulse of their hot topics too. We predict that Google Consumer Surveys will become increasingly popular within the PR industry as more of our colleagues learn about this service."
Survey Methodology
The McCarthy Group, a leading marketing communications and public relations consultancy, conducted a national survey in February 2014 to assess the degree to which Millennials considered different sources of information "trustworthy." Respondents to the survey were between 18 and 34 years old. The research was conducted by Google Consumer Surveys.
About The McCarthy Group
The McCarthy Group is a full-service strategic marketing and public relations agency based in New York City. We are passionate about creating brand stories that drive business results for our clients, and provide marketing communications and public relations services to businesses of all shapes and sizes. Clients we have helped include Citi, Apartment Finder, Women & Co., CORE: club, The Institute of Skinovation, Magic Johnson Enterprises, and others. To learn more, visit http://www.themccarthygroup.com or contact Tami McCarthy at tami(at)tmgpr(dot)com.
To speak with Tami McCarthy or Dan McCarthy, please contact Sam(at)tmgpr(dot)com.