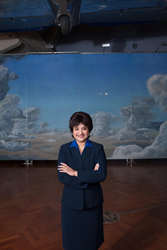 Dearborn, MI (PRWEB) May 20, 2014
The National Science Teachers Association (NSTA), the largest professional organization in the world promoting excellence and innovation in science teaching and learning, has announced the recipients of its 2014 Teacher Awards.
According to NSTA President Bill Badders, the purpose of the Teacher Awards program is to recognize extraordinary K-12 teachers, professors, principals, and science educators for their outstanding achievements in science education. "We're proud to honor these amazing teachers and science education professionals who are not only making a significant mark on the profession, but also inspiring the next generation of informed citizens, scientists, engineers, mathematicians, and innovators," he commented. "Through their passion, patience, and dedication, and by instilling a sense of wonder about science, they are helping to build a more promising future for all students."
Paula Gangopadhyay, chief learning officer at The Henry Ford in Dearborn, Michigan, was awarded the Faraday Science Communicator Award. This award, named in honor of Michael Faraday (1791–1867), the English chemist and physicist who is known for his pioneering experiments in electricity and magnetism. Through lectures and letters, Faraday led people of all ages to a greater understanding of the natural scientific laws that govern us all. The Faraday Science Communicator Award recognizes and rewards an individual or organization that has inspired and elevated the public's interest in and appreciation of science. Gangopadhyay received her award earlier this month at a special banquet and ceremony at NSTA's 62nd National Conference on Science Education in Boston, Massachusetts.
Gangopadhyay is a holistic informal science educator with accomplishments and scholarly contributions in content and curriculum and 19 years of experience in museum and K-12 education. She is directly responsible for a major increase in education products at The Henry Ford, many of them in science, and all of them cross-linked with the humanities. One example is the new thematic strand she created for The Henry Ford called "STEM in America." Another is the STEM curriculum she developed called Innovation 101, which promotes critical thinking, creativity, and other 21st-century skills. This curriculum was recently piloted by more than 40 teachers nationwide, directly impacting upwards of 1,000 students through a unique concept called the Innovation Education Incubator. The Innovation Education Incubator is now being scaled up as the Innovation Learning Accelerator that will empower 5000 teachers and 125,000 students to think and act like innovators. This initiative was endorsed as a national commitment to action in the STEM category, at the Clinton Global Initiative, America in 2013.
Gangopadhyay is working with Stanford University's Epicenter, the National Center for Engineering Pathways to Innovation and with other notable higher education institutions to incorporate innovation and entrepreneurship into their undergraduate engineering and business school programs and create a potential feeder system into the STEM field through K-12 education.
President Barack Obama appointed Gangopadhyay as a member of the National Board of Museums and Libraries for a four-year term. She was recently honored with the 2014 Michigan Science Teachers Association Informal Science Educator Award. On behalf of The Henry Ford she received a Bronze Award at the 2012 national Edison Awards for her Innovation 101 curriculum; the same year, she also was presented with the American Association of Museums EdCom Award for Excellence in Practice. "Paula's work directly demonstrates how informal science can become an invaluable teaching and learning asset for formal education and provide rich resources with which we teachers can redefine science education. Her vision is totally aligned with the Next Generation of Science Standards and Common Core State Standards," says a middle school science teacher who has worked with her.
Gangopadhyay received $2,500 toward expenses to attend the NSTA National Conference on Science Education.
"We congratulate Ms. Gangopadhyay for her lifelong commitment to science education and for her innovative and creative approach to teaching our students science," said Badders.
NSTA encourages science educators to apply for its 2015 Teacher Awards. Applications and information can be found online at http://www.nsta.org/about/awards.aspx.
About NSTA
The Arlington, VA-based National Science Teachers Association (NSTA) is the largest professional organization in the world promoting excellence and innovation in science teaching and learning for all. NSTA's current membership includes approximately 55,000 science teachers, science supervisors, administrators, scientists, business and industry representatives, and others involved in science education.
# # #