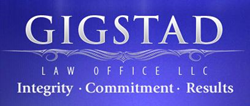 Overland Park, KS (PRWEB) May 20, 2014
Overland Park Criminal Defense Attorney Robert "Chris" Gigstad is now certified in the administration of standardized field sobriety tests (SFSTs). The lawyer became certified upon his recent completion of the 24-hour DUI Detection and Standardized Field Sobriety Testing training program. According to the Kansas Department of Transportation's website, the organizations that provide this training are the National Highway Traffic Safety Administration (NHTSA) and the International Association of Chiefs of Police (IACP). Attorney Gigstad, of Gigstad Law Office, LLC, protects the rights of individuals who are facing criminal charges in Overland Park, Kansas and the surrounding areas.
Through his certification training, Attorney Gigstad received instruction under the new 2013 NHTSA Manual and participated in two correlation workshops. The lawyer learned how to administer SFSTs, as well as tactics for recognizing behavior that suggests impairment. He also learned the process of documenting SFST results, the medical background of the horizontal gaze nystagmus (HGN) test, the science behind breath/blood/urine testing and the limitations of this testing, methods for reviewing police reports, tips for identifying impairment involving drugs other than alcohol, etc. The training course even provided mock trial sessions that taught the course participants how to effectively present evidence in the courtroom.
By receiving direct training in the administration of standardized field sobriety tests, Attorney Gigstad has obtained inside knowledge of how these tests work and how they are supposed to be performed. This gives him a major advantage as a DUI defense lawyer who regularly analyzes standardized field sobriety test results in his DUI cases. His advanced knowledge makes Mr. Gigstad better equipped to identify any errors officers may have made while administering SFSTs on defendants. Such errors are often grounds for getting evidence suppressed or DUI charges dismissed.
Attorney Gigstad is a proud member of the National College for DUI Defense®, The National Trial Lawyers: Top 100 Trial Lawyers, the Kansas Association of Criminal Defense Lawyers and a number of other professional organizations. He is admitted to practice law in all Kansas courts.
Gigstad Law Office works in various areas of criminal law. In addition to DUI cases, the firm also provides defense in cases involving traffic offenses, theft crimes, drug crimes, juvenile crimes, domestic violence and much more. Anyone who would like to discuss his or her case with Attorney Gigstad can do so through an online case evaluation. For more information about Gigstad Law Office or its criminal defense services, visit http://www.gigstadlaw.com.