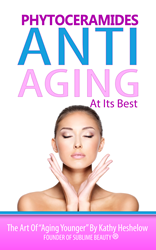 A new book has just been published on the subject of Phytoceramides, written by the founder of Sublime Beauty®.
St. Petersburg, FL (PRWEB) May 21, 2014
One of the most exciting anti-aging products to come along in the U.S. is all-natural Phytoceramides. Long used in Japan and in Europe to great effect, many in the U.S. are mystified about what they are.
A new book has just launched on the subject, written by the founder of Sublime Beauty®, Kathy Heshelow.
Entitled Phytoceramides: Anti-Aging at its Best, it is initially available on Amazon at a promotional price.
"There are naturally many questions when a new product starts to get attention," says Heshelow. "The book answers those questions: what Phytoceramides are, how they work, what to expect and more. The book also addresses the issue of aging skin health - it is more than a cosmetic issue!"
The company has a website devoted to Phytoceramides, and has designed an easy 6 step system to enhance Phytoceramides and get the most from them.
Sublime Beauty® offers Phytoceramides on its webstore and on Amazon.
The deeply discounted price will be available for a short time. Learn about Phytoceramides and naturally improving skin from the inside out now.
ABOUT: Sublime Beauty® is a quality skincare company that focuses on products to "Age Younger". Products help to boost collagen, hydrate, relax wrinkles and improve skin. A niche includes healthy Skin Brushes. The company webstore offers free standard shipping and a VIP Club. Products also available on Amazon.