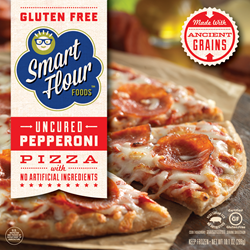 Three ancient grains – sorghum, amaranth and teff – give Smart Flour Foods great taste and texture that rivals any food on the market – gluten free or not.
Austin, TX (PRWEB) May 21, 2014
Smart Flour Foods, a leading provider of award-winning gluten-free food, is observing Celiac Awareness Month with several exciting activities to help engage the community. Celiac disease affects about 3 million Americans, who need to consequently adopt gluten-free lifestyles.
First, President and CEO Charlie Pace will join media for in-studio demonstrations showcasing the company's products that are all based on its proprietary blend known as Smart Flour. Pace, who is gluten intolerant, is passionate about raising celiac awareness and educating consumers that gluten-free diets can be delicious.
"I'm looking forward to sharing my personal experience of living gluten free and tips on how to incorporate the lifestyle into any diet," said Pace. "Thanks to the growing awareness in the U.S. about the importance of nutrition, more and more people are seeking gluten-free options as part of a balanced diet and healthy lifestyle. We're proud to be part of that solution, helping people find delicious and nutritious gluten-free foods."
On Facebook and Instagram, fans are encouraged to participate in the "Snap Smart Flour Foods and Win" contest through June 1. Fans may submit photos of Smart Flour Foods products that they use and encourage friends to vote on those photos. Three fans whose photos get the most votes will win a grand prize package of coupons for five free Smart Flour Foods pizzas and a Smart Flour Foods T-shirt. Everyone who enters will get a $1 off coupon for Smart Flour Foods products.
Additionally, Smart Flour will be exhibiting at a variety of trade and consumer shows In May:

Gluten-Free Food Allergy Fest in San Diego, May 3-4
UNFI 2014 East Winter Holiday Tabletop Show in Connecticut, May 14-15
National Restaurant Association Show 2014 in Chicago, May 17-20
Gluten & Allergen Free Expo in Atlanta, May 17-18
UNFI 2014 West Winter Holiday Tabletop Show in Portland, Ore., May 29-30
Smart Flour Foods sells its gluten-free products in both restaurants and retail. Many fine restaurants use its crust in their gluten-free pizzas and offer its hamburger buns, slider buns and desserts (blondies and brownies). Customers can also purchase Smart Flour Foods' Cheese, Garden Margherita and Uncured Pepperoni frozen pizzas and frozen pizza crusts in a wide variety of natural and specialty stores throughout the United States, including many Whole Foods Markets. Several of the products are also available online at http://www.smartflourfoods.com, and a full list of restaurants and grocery stores that carry Smart Flour Foods can be found there as well.
Three ancient grains – sorghum, amaranth and teff – give Smart Flour Foods great taste and texture that rivals any food on the market – gluten free or not.
For more about Smart Flour Foods, please visit http://www.smartflourfoods.com. To interview members of the Smart Flour Foods team, please call the contacts listed at the bottom of this release.
About Smart Flour Foods
Smart Flour Foods LLC, located in Austin, TX, has been a provider of tasty, award winning, gluten-free pizza, bread, and dessert products since 2005. Contrary to most gluten-free products made from rice flour, Smart Flour Foods makes its products with a unique blend of ancient grains, including sorghum, amaranth and teff. This blend, dubbed Smart Flour™, results in gluten-free products that taste better, have better texture and provide a higher level of essential vitamins and minerals. Smart Flour Foods offers a retail line of frozen pizzas and crusts available in a number of natural and specialty stores around the United States, as well as providing a food service line of pizza crusts, desserts, other baked items and flour mixes to hundreds of fine restaurants across the United States.