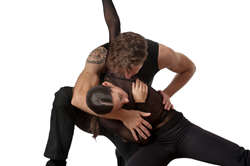 Marked by an amazing cohesion of style, spirit and attention to detail. - Arts in Ohio
Cleveland Heights, Ohio (PRWEB) May 22, 2014
Returning to Cain Park's Alma Theater for its twelfth annual summer series June 12-14, the innovative and award-winning GroundWorks DanceTheater will premiere a new work by Artistic Director David Shimotakahara and reprise two audience favorites from its extensive repertory, "All I Do" by David Parker and "Hindsight" by Lynne Taylor-Corbett.
Tickets for the three performances starting at 7 p.m. each evening are $25 in advance and $28 the day of the show; they can be purchased at Ticketmaster (800-745-3000) or the Cain Park ticket office (216-371-3000) as of May 31. Cain Park is located at Lee Road and Superior Road in Cleveland Heights.
All I Do (2010) by David Parker, a "whimsical and intricate invention" (The Plain Dealer), is set to music from the American film classic "Singin' in the Rain" (including the eponymous "All I Do is Dream of You"). The New York-based Parker, choreographer of The Bang Group, was praised by The Dance Insider for "turning musical theater, dance and rhythm topsy-turvy, offering fresh, witty observations to his audiences as he does so." A 2013 Guggenheim fellow in choreography, he has been commissioned by over 35 dance companies, universities and festivals, including The Anna Sokolow Players Project, Dance Alloy Theater in Pittsburgh, Arena di Verona Ballet Company (Italy), and Juilliard New Dances.
Hailed for its "frolicsome fun" and "soulful character" (The Plain Dealer), "Hindsight" (2011) – a collaborative effort by choreographer Lynne Taylor-Corbett and video projection designer Adam Larsen – pays tribute to Akron-born rock legend Chrissie Hynde of The Pretenders. Taylor-Corbett, a Denver native, has directed and choreographed ballets, contemporary works, Broadway shows, plays and films. She has received two Tony Award nominations, a Drama Desk nomination, and two American Theatre Wing "Star" nominations, and has worked with American Ballet Theatre, New York City Ballet, Ohio Ballet, Pennsylvania Ballet and Hubbard Street Dance, among others.
The Cain Park program's World Premiere, a duet by GroundWorks Artistic Director David Shimotakahara, will feature live accompaniment on marimba by musician Luke Rinderknecht. A graduate of Shaker Heights High School, Rinderknecht is a Juilliard trained percussionist who has appeared on stages around the world, including Tokyo's Suntory Hall, Vienna's Musikverein, and at The Proms in London's Royal Albert Hall. He has performed with The Metropolitan Opera, The Qatar and Buffalo Philharmonics, St. Luke's Chamber Orchestra, and the Virginia and West Virginia Symphonies. Rinderknecht is the husband of GroundWorks dancer Annika Sheaff.
Now in its fifteenth season, GroundWorks is dedicated to the development and presentation of new choreography and collaborations. The five-member company performs new works by Shimotakahara and Artistic Associate Amy Miller, as well as commissioned work by nationally and internationally acclaimed choreographers including Ronen Koresh, Dianne McIntyre, Lynne Taylor-Corbett, Jill Sigman, Gina Gibney, David Parker and others.
Cain Park 2014 season sponsors include Cuyahoga Arts & Culture, Ohio Arts Council, Severance Town Center, Intercontinental Hotels – Cleveland, and Motorcars Honda/Toyota/Scion.
Cain Park, a municipally owned and operated summer arts park and one of the nation's oldest landmark outdoor theatres entering its 76th season, is produced by the City of Cleveland Heights and is located on Superior Road between Lee and South Taylor roads.