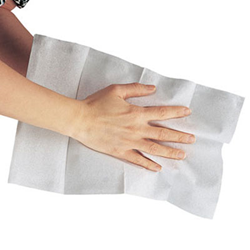 If a restaurant washroom is unhygienic and untidy this can lead to believe that the kitchens would be the same.
Co Durham (PRWEB UK) 21 May 2014
Cross-contamination is one of the leading causes of foodborne illness. A few of the obvious ways to prevent contamination in a kitchen are: keep cooked and uncooked high-risk protein foods in separate areas, use a colour-coding system for utensils and cleaning cloths, mops etc, and always wash hands before and after every task.
It can be easy to forget all the other steps along the way such as using different sinks for food and utensils, and touching the oven controls by hand as opposed to using gloves or a towel to prevent cross-contamination.
One effective system is the Hands-Free Roll hand towel dispenser that improves hygiene as employees and guests only touch the sheet used and the eco label paper helps to take further germs from the hands.
Vita Direct guarantees quality and performance with this roll towel dispenser and years of worry free use. For each dispenser's performance is demonstrated each day with the fastest dispensing. These are part of the European certification of the Eco-label scheme and offer the great benefit of a hygienic, smooth running and cost efficient washroom system.
Dispensers cut wastage, prevent abuse and reduce your spend. These are at the forefront of dispenser technology and are specially designed to meet the challenges and requirements of your work place, which in combination with electronic dispensing can improve any environment.
New products available 2nd June, the laminated and micro embossed white 2 ply hand towel roll and 2/3 ply toilet tissue roll complete with free dispensers and free fitting in the UK.
These can be extremely beneficial for users, employees and the business, creating a pleasant and motivational atmosphere.
To avoid cross-contamination at your establishment, contact Vita Direct for more product information.