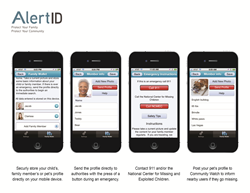 National Missing Children's Day reminds us how precious children are and provides an opportunity to rededicate ourselves to ensuring their safety... Kathleen Sandoval, First Lady of Nevada
Arlington, VA, and Las Vegas, NV (PRWEB) May 21, 2014
Eight hundred thousand children are reported missing in America each year, or more than 2,000 each day. To address this critical issue, The National Crime Prevention Council (Home to McGruff the Crime Dog®), Nevada's First Lady, and AlertID are teaming up to raise awareness and offer innovative mobile technologies to help protect children.
On May 25, 1979, 6-year-old Etan Patz disappeared from his New York City home on his way from his bus stop to school. The case received national attention and raised awareness about the importance of protecting our children. In response to this and other tragic events, President Ronald Reagan proclaimed May 25 as National Missing Children's Day in 1983, which commemorates the commitment to help locate and recover missing children.
"Each of us needs to commit to helping locate and recover missing children or work as NCPC does to prevent children from going missing in the first place," said Ann M. Harkins, NCPC President and CEO. "Missing Children's Day reminds parents, family members, teachers, caregivers, and our neighbors to make child safety a priority."
AlertID's free mobile app includes My Family Wallet™, which helps parents take and store recent pictures of and basic demographic information about their children that are stored only on the parent's mobile device. If the parent and a child become separated, the child's profile can be quickly sent electronically from the mobile device to quickly aid authorities in their search when every precious minute counts.
For AlertID founder, Keli Wilson, being prepared can make a critical difference in protecting children, "National Missing Children's Day is a great opportunity to talk to our children about their safety and to encourage families to take action and be prepared before an emergency happens."
Parents should also be aware of the dangers in their neighborhoods and other areas that are important to them by becoming members of AlertID. Members enter the addresses of important areas to them and are provided an easy-to-read map showing sex offenders residing or working in those areas. That same information is also available when they travel through AlertID's mobile app. Members also receive alerts when new sex offender data becomes available, as well as crime alerts in hundreds of cities nationwide. To sign up for an AlertID account, or for more information, go to http://www.AlertID.com.
Kathleen Sandoval is the First Lady of Nevada, the Director of Operations for the Children's Cabinet in Northern Nevada, a devoted mother, and an advocate of children's safety. "National Missing Children's Day reminds us how precious children are and provides an opportunity to rededicate ourselves to ensuring the safety and security of each and every child. There is nothing more important."
The National Crime Prevention Council and AlertID also offer important prevention tips and resource information for protecting children. For more information, please visit: http://www.alertid.com/search/crimes-against-children.asp. For helpful information on talking to kids about strangers, please visit: http://www.alertid.com/search/teach-kids-about-strangers.asp.
About the National Crime Prevention Council
The National Crime Prevention Council is the nonprofit leader in crime prevention. For more than 30 years, our symbol of safety, McGruff the Crime Dog®, has delivered easy-to-use crime prevention tips that protect what matters most—you, your family, and your community. Since 1982, NCPC has continuously provided the American public with comprehensive educational materials, training programs, and effective crime prevention messaging, delivered in large part through its vast network of more than 4,600 state and local law enforcement agencies, crime prevention associations, community groups, foundations, and corporate partners. For more information on how NCPC can be a public safety expert for you or how to "Take A Bite Out Of Crime®," visit http://www.ncpc.org.
About Nevada's First Lady and the Children's Cabinet
Nevada's First Lady, Kathleen Sandoval, has dedicated her career to improving the lives of others. As Director of Operations at the Children's Cabinet in Reno, the largest non-profit organization in Northern Nevada, Mrs. Sandoval concentrates her efforts on reducing school truancy, evaluating mental health issues, supporting homeless, runaway and abused children, and on preventing family violence. Since 1985, The Children's Cabinet's mission has been to keep children safe and families together by providing services and resources that address unmet needs through a unique and effective cooperative effort between the private sector and public agencies in Nevada. They provide a wide range of crisis intervention services, including Safe Place, a service available 24 hours a day, seven days a week for youth experiencing violence, abuse or exploitation. For more information, visit http://www.childrenscabinet.org.
About AlertID, Inc.
AlertID is your family neighborhood safety network. AlertID offers sex offender alerts that cover more than 90% of the US population and crime alerts for hundreds of cities in the US and all of England. AlertID has more than one million members in 85% of US zip codes and more than 30 countries. AlertID has proven to help reduce crime, using secure and proven technology to create two-way communication between citizens and federal, state, and local authorities to provide immediate information on crime, terrorism, natural disasters, or severe weather that can threaten the safety of families and communities. For more information, visit http://www.AlertID.com.