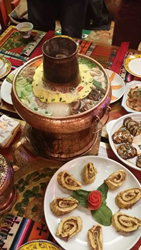 Travelers should not miss a Tibetan style meal when travelling in Lhasa.
Lhasa, Tibet (PRWEB) May 23, 2014
The special geographical conditions of Qinghai-Tibet Plateau create unique Tibetan food culture. As a travel agency focusing on local experiences, Tibet Travel Org always arranges at least one meal per tour at a restaurant with local specialties for their clients. To learn more about Tibetan cuisine, however, travelers need to eat in different restaurants.
Mr. Kunga, an experienced Tibetan tour guide, advises travelers to have three different Tibetan meals a day:
Breakfast: If travelers stay in a hotel offering Chinese and Western breakfast only, they can go to a local tea house to enjoy Tibetan food, a bowl of Tibetan noodles, with original yak meat soup, a beef pie and a cup of butter tea. The noodles are made of highland barley flour. Such a breakfast offers enough energy to start a new day.
Lunch: Have a set meal of rice and curry beef (yak meat). It is authentic, economic and time-saving.
Dinner: Go to Tibetan restaurant to have a big dinner of yak steak, lamb chop, tsampa, maize bread, blood sausage and yogurt.
Kunga also recommends five restaurants where travelers can enjoy authentic Tibetan food when travelling in Lhasa.
1. Makye Ame
Located in the southeast corner of Barkor Street, the restaurant is famous for a romantic legend. It is said to be where the sixth Dalai Lama Tsangyang Gyatso met and fell in love with a beautiful girl named Makye Ame on a starry night. Its most famous cuisines are roast mutton chops, acid turnip fried beef, Tibetan roasted natural mushroom, yogurt and ginseng fruit sweet salad, tsamba ball, fresh Tibetan barley wine, and Tibetan butter tea. Its interior décor presents strong Tibetan flavors, too. There are usually Tibetan singers giving excellent performances on the second floor. It is pleasant to sit beside the window to view the busy Barkhor Street while tasting exotic food and listening to beautiful songs.
2. Namaste Restaurant
This well-known restaurant is decorated in Tibetan style. It offers a wide range of high quality food and services. It serves Tibetan, Nepalese, Indian, Chinese and Western food. The friendly waiters speak excellent English. As it is located on the second floor overlooking Jokhang Temple, one can enjoy a wonderful sight of the ancient streets of Lhasa at a window seat.
3. Lhasa Kitchen
Located on the main drag to Barkhor Street, this restaurant gives priority to Tibetan food, but also serves nice Indian, Nepalese, Chinese, Italian dishes, and various snacks at decent prices. It is decorated uniquely by merging Tibetan, Indian, Nepalese and Chinese styles together.
4. New Mandala Restaurant
This is a Nepali-run restaurant, but its layout is in Tibetan style. It offers Tibetan, Chinese, Indian, Nepalese and Western dishes. It is located at the entrance of Jokhang Square. Both its mural-filled second floor and sunny rooftop provide stunning views of Jokhang Temple and Barkhor Street.
5. Crazy Yak Saloon
Located on Beijing East Road, it is one of the largest Tibetan restaurants in Lhasa. It provides renowned Tibetan, Tibetan-style decoration and furnishings. The yak meat is strongly recommended. Besides, it serves awe to chicken and beef, and some common dishes. Its Tibetan song and dance performances are enjoyable.
About Tibet Travel Org CITS
Tibet Travel Org, the top online Tibet tour operator, annually sends more than 1,000 individual travelers and over 100 tour groups to Tibet. It helps travelers to obtain the Tibet Travel Permit, book air/train tickets to Tibet and customize their tours. The company also keeps updating latest information about Tibet on Facebook (tibettravel.org) and twitter (@TibettravelOrg).