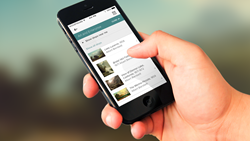 OTTAWA, CANADA (PRWEB) May 21, 2014
Espro Acoustiguide Group is a market leader in multimedia guides, interpretation systems, creative content and technology solutions for the museum, cultural and heritage industries. Its design and software technology division, Acoustiguide Interactive (formerly: Tristan Interactive), is the world's largest developer of custom, museum-oriented mobile apps and websites.
Acoustiguide Interactive develops mobile apps for the world's most prestigious institutions, including the official apps for the Musée du Louvre, The Solomon R. Guggenheim Museum, Smithsonian Institution, Museum of Contemporary Art Australia, Art Gallery of Ontario and Canadian Museum for Human Rights.
iBeacons are a new class of low-powered, low-cost Bluetooth transmitters that can notify smartphones of their presence. In a museum setting, this technology sets the foundation for a new class of mobile applications to help visitors locate themselves within the museum, interact with the artwork around them and find their way around. Easy to deploy, integrate and maintain, iBeacons are practical for museums of all sizes.
"This technology has incredible usefulness in the cultural space. We imagine a world where art and history lovers can explore the world's museums, their smartphone telling them what they are looking at, guiding them from work to work. Museum visitors should enjoy looking up at the artwork, and not worry about looking down at their phones, figuring out what buttons to push." - Chris McLaren, Chief Software Architect, Espro Acoustiguide Group.
Espro Acoustiguide Group is presently integrating iBeacon support into custom applications for many clients and has completed integrating iBeacon support in Acoustiguide Mobile, the company's flagship turn-key product. Acoustiguide Mobile is a complete solution for authoring and distributing multilingual, feature-rich, and visually stunning multimedia tours on modern mobile devices, and is the simplest and most cost-effective solution to bring the iBeacon technology into the museum.
For more information, including a demonstration of iBeacon technology, please join Espro Acoustiguide Group at the American Alliance of Museums MuseumExpo, May 18 - 21, Washington State Convention Center, Seattle.