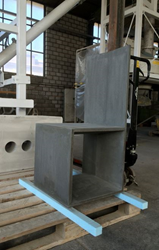 The Haus vom Nikolaus... a single, continuous line that forms the shape of a chair with beautiful simplicity.
Nyon, Switzerland (PRWEB UK) 22 May 2014
The new Haus vom Nikolaus (House of Nicholas) concrete chair was unveiled by modern furniture designer Sophia Slingerland this month at the Atelier Phi gallery in Nyon, Switzerland.
The new minimalist chair is fortified by high density, high resistance concrete and is comprised entirely of materials sourced from local Swiss companies handpicked by Slingerland for their commitment to quality and the preserving the environment. All of Slingerland's designs are made with a focus on sustainability and the new Haus vom Nikolaus is no exception.
Instead of using traditional armatures, the chair's unique shape is formed using small needles made of plastic fibre, making the overall design lighter than if it were supported by a steel frame.
Slingerland explains the inspiration behind this distinctive concrete piece: "I was really interested in the minimalistic way children depict every day things. When drawing a house, for example, children often sketch out crossed interior lines for the roof and walls without lifting the pen. The Haus vom Nikolaus was designed in a similar way – a single, continuous line that forms the shape of a chair with beautiful simplicity."
The Haus vom Nikolaus' incredible durability makes it ideal for outdoor spaces like terraces or gardens, and stands out as a piece of small scale, functional architecture.
The Haus vom Nikolaus is currently available to view at the Atelier Phi showroom in Nyon, Lake of Geneva in Switzerland. Designer Sophia Slingerland will be on hand to answer questions about the design process and take enquires about bespoke furniture projects.
About Atelier Phi
Atelier Phi is a Switzerland-based furniture boutique showcasing the work of architect and designer, Sophia Slingerland. All pieces are either unique or made in very small series to ensure the highest quality and craftsmanship. Slingerland believes in bringing design principles of architecture into interior spaces to create furniture which is eco-friendly, beautiful, flexible and defies the ordinary. For more information or to enquire about bespoke furniture creations, visit the Atelier Phi website or contact Sophia Slingerland directly at s.slingerland(at)ateliers-phi.com.