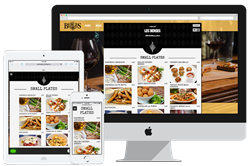 'It can be a very daunting process for restaurant owners to decide what should constitute their website.' - Philip Tolton
Montreal, Quebec (PRWEB) June 02, 2014
Dysfunctional restaurant websites will be a thing of the past if Montreal based start-up DishGo has its way. With the launch of its newly designed restaurant marketing platform, DishGo founders Philip Tolton and Tim Thomas hope to change the way people think about online menus. Built using technology not often seen outside Silicon Valley, DishGo provides an intuitive online dashboard for building and maintaining a restaurant's website and online presence.
"It can be a very daunting process for restaurant owners to decide what should constitute their website," says Philip Tolton, Lead Developer at DishGo. "It's difficult to hire someone to build something you don't understand yourself. We've come across restaurants that paid thousands of dollars for websites that are already obsolete. With today's ever-changing mobile market, over half of customers are searching for restaurants from their smartphones and tablets. The status quo isn't cutting it."
DishGo has worked hard to ensure everything they build looks great on all devices. Any content the restaurateurs create with DishGo is accessible by their customers on all devices no matter the screen size. When conceptualizing the necessities of restaurant websites, DishGo approached it with the consumer in mind. "We got down to the nitty gritty of why a user is exploring a restaurant's website. We stripped away all the needless distractions, provided restaurateurs with the ability to express their brand identity and focused on the fundamentals - Menus!" says Tim Thomas, Head of Business Development. "At the heart of our website builder is one of the most advanced menu management platforms on the market."
DishGo's unique approach to menu building creates a fully interactive customer experience. Within a matter of minutes, a restaurateur can sign up with DishGo, design their website and start building their menu. Thanks to some technical wizardry, DishGo links its menu system with Facebook to create an interactive menu which also lives within the confines of a restaurant's Facebook Page. "Customers never have to leave Facebook to browse your menu," says Tolton.
The website building industry is huge but DishGo differentiates itself by building tools which help restaurants specifically. Being from Montreal, they spent considerable effort making it easy to create multilingual sites unlike many other providers which require you to build a duplicate site for each independent language. With a simple click, DishGo website users can switch between any language the restaurateur wishes to support.
"With our system we're putting an end to the PDF menu," said Thomas. DishGo has launched a menu listing iPhone app, which is free for restaurateurs to join and showcase their food. Also in the works is a new feature called Menu Injection for restaurants who already have a website. "We can inject our menu management system directly into an existing restaurants website with the addition of a few lines of code," says Tolton.
Ultimately DishGo is providing restaurateurs with the technical tools that help market and differentiate them from the pack while keeping the costs down in a market where margins are razor thin.
For more information, contact Tim Thomas at DishGo or visit https://dishgo.io.
Tim Thomas
514-591-9387
tim(at)dishgo(dot)io
https://dishgo.io