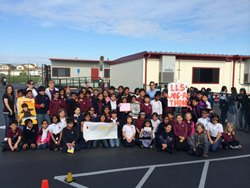 We strive to raise intelligent, compassionate, and capable global citizens who will have a positive impact on our world.
Saratoga, California (PRWEB) May 29, 2014
Stratford School today announced that its Fremont Curtis campus has raised $43,000 for The Leukemia & Lymphoma Society (LLS) Pennies for Patients campaign. The campus recently hosted its fourth annual Jog-A-Thon in the spring to benefit the Pennies for Patients campaign raising $18,200, the most ever raised for LLS's Greater Bay Area Chapter, making the campus the number one fundraising school for the chapter for 2013-2014. Stratford's Fremont Curtis campus raised $11,000 in 2013, $7,800 in 2012, and $6,300 in 2011, making their total contribution to LLS over $43,000.
Stratford's school wide initiative Stratford Cares encourages all campuses and students to participate in at least one local and one global charity per year. "While academics is truly at Stratford's core, we continually strive to raise intelligent, compassionate, and capable global citizens who will have a positive impact on our world," says Sherry Adams, Founder and Chief Academic Officer, Stratford School.
In 2011, Ellie Tariverdi, Elementary School Principal at Stratford's Fremont Curtis campus, saw a flyer for the LLS Pennies for Patients campaign and thought it would be the perfect local charity to support. Tariverdi and parent committee chairperson, Arlene Lim, organized a Jog-A-Thon to help LLS fund research for a cure. With the families' overwhelming response to the initiative, the campus now holds the event yearly in the spring.
"Our students enjoy the Jog-A-Thon very much; they feel the power of the community and see the support they are able to deliver to LLS. They also gain recognition, feel accomplishment, and look forward to doing it all again next year," says Tariverdi.
One Stratford School third grader's birthday fell during the Pennies for Patients Jog-A-Thon three years in a row, and she asked for donations instead of gifts. She was awarded a special t-shirt that says, "Champion of Change" at Stratford's post Jog-A-Thon ice-cream party in 2013.
Stratford School would like to recognize their top fundraisers for 2014: Arya M., kindergarten, who raised $1,560 and Divisha K., third grade, who raised $1,173.
About Stratford School
Stratford School is an independent private school founded on the belief that education is a significant influence in the life of a child. Stratford offers preschool through eighth grade, with an accelerated curriculum – particularly in the areas of mathematics and language arts – that incorporates music, art, science, technology, and physical education.