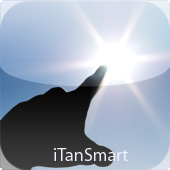 With iTanSmart you'll never get overexposed to the sun again...
Fort Meyers, FL (PRWEB) May 23, 2014
Memorial Day is the unofficial start of summer. Just in in time for fun in the sun, the iTanSmart app provides a personalized approach to eliminating the guesswork from sun tanning and preventing painful and potentially dangerous sunburns. As the most feature-rich and only patented tanning app on the market, iTanSmart:

Allows users to enter skin type, sunscreen protection factor (SPF)
Provides the current and maximum UV index based on sunbather's location
Alerts users with audible chimes and screen notifications when it's time to leave the sun/reapply sunscreen, and when maximum Vitamin D production has occurred— all prior to overexposure
Educates users about the sun's UVA and UVB rays, sun protection, and overexposure risks
Gives users the freedom to browse the web and listen to music while continuously monitoring their sun exposure
iTanSmart is particularly pertinent to its creator— President of UV Technologies, LLC, Kevin McGuire. Kevin developed iTanSmart after noticing age spots on his face that he had removed. Recently, something more serious was found. McGuire was diagnosed with Basal Cell Carcinoma skin cancer, the most common form of cancer with which roughly 3 out of 10 Caucasians will be diagnosed in their lifetime. "[BCC] is common and not deadly, but a sobering reminder of what too much sun can do," says McGuire. His goal is to get the app in as many hands as possible to prevent the risk of skin cancer among users.
Most sunbathers have at least a general awareness of the dangers of skin cancer. However, no matter how much you know before you glow, gauging how much sun is too much has been a virtually impossible task until the introduction of iTanSmart for use on Apple iPhones, iPods, and iPads. The app is free to download and use, but a full paid version blocks advertisements, provides a list of medical conditions and related drugs that increase one's sun sensitivity, tracks users' total daily sun exposure and Vitamin D production, and offers specialized settings for children.
There's no need for guessing games when it comes to your skin. Be smart with your time in the sun by downloading the iTanSmart app— available today in the Apple App Store.
If you would like further information on iTanSmart, please contact:
UV Technologies, LLC
iTanSmart in Apple App Store
Email: sales(at)itansmart(dot)com
+(941) 548-7964
About UV Technologies, LLC:
UV Technologies, LLC's mission is to provide innovative products for customers' health and well-being. iTanSmart is a patented sun tanning application developed for Apple iPhones, iPods, and iPads. UV-Aid is a patent pending photo-oxidation technology that helps prevent cold and flu. UV Technologies is an accredited business member of the Better Business Bureau. Visit http://www.uvaid.com for more information.