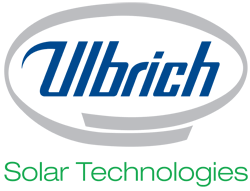 Our ability to create engineered products tailored to each customer's specifications and provide on-site technical assistance, proves us invaluable to the top solar module manufacturers for both crystalline silicon and thin film solutions. - Ed Treglia VP
Westminster, SC (PRWEB) May 26, 2014
The Solarworld award acknowledging Ulbrich Solar's service and performance was presented to PeterBerghofer, General Manager and Karin Brosch, Manager Sales & Marketing, Ulbrich of Austria. Solarworld recognized Ulbrich's excellence in developing new soldering strips for solar cells and providing local technical support when these strips were introduced into their manufacturing lines. The awards were presented to only 4 of their 3000+ suppliers and recognized all of the Ulbrich Solar facilities.
Ulbrich Solar Technologies boasts three locations, with two in the US and one in Austria. As a world leader in the production of PV Ribbon products for traditional solder, hybrid solder and conductive adhesive technologies, Ulbrich partners with leading Solar Module Manufacturers around the globe to provide state-of-the art module solutions.
"Ulbrich has always been on the cutting-edge of PV ribbon technology, with over twenty years of experience in the Industry. Our team of innovators and engineers develop the individualized solutions that today's module makers require. Our ability to create engineered products tailored to each customer's specifications and provide on-site technical assistance, proves us invaluable to the top solar module manufacturers for both crystalline silicon and thin film solutions. We are proud to be recognized by Solarworld AG for our partnership and dedication to providing the best PV Ribbon products and service in the Industry," commented Ed Treglia, Vice President, Ulbrich Solar Technologies, Inc.
Ulbrich Solar Technologies, Inc., is headquartered in Westminster South Carolina. Their products include: solar cell tabbing, interconnect wire, bus ribbon, pre-formed/cut bus ribbon, and thin film substrates. Ulbrich also offers LCR™ (Light-Capturing Ribbon), an innovative 'grooved' interconnect wire, that reflects more light onto the surface a cell, increasing output by up to 3% over traditional flat ribbon.
For more information on LCR™ and our entire family of PV Ribbon products contact us here:
Ulbrich Solar Technologies, Inc.
692 Plant Road
Westminster SC 29693
Tel: 864.647.6087
Fax: 864.647.0482
Solarworld AG, headquartered in Bonn, Germany, produces and sells solar power solutions, world-wide and can be contacted at http://www.solarworld.de.