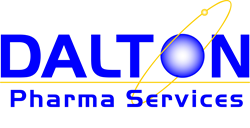 Meeting industry expectations for quality, while ensuring leading edge science and operational excellence, is a strategic priority for Dalton.
Toronto, ON (PRWEB) May 22, 2014
Dalton Pharma Services, a privately owned Canadian pharmaceutical services provider to leading pharmaceutical companies, today announced the company has received "Compliant" rating from Health Canada following the completion of the regulatory agency's Good Manufacturing Practices inspection of the facility. The license allows Dalton Pharma Services to continue manufacturing, packaging and testing pharmaceuticals including sterile dosage forms such as powders for solutions or suspensions and solid oral dosage forms. Dalton is able to produce drugs used in global clinical trials including vaccines and controlled substances. This marks Dalton's fourth consecutive successful Health Canada audit.
"The HPFBI inspectors performed a thorough and careful audit, reviewing systems, training and processes throughout our facility. The bar for cGMP compliance continues to be raised globally. Meeting industry expectations for quality, while ensuring leading edge science and operational excellence, is a strategic priority and a competitive advantage for Dalton," said Peter Pekos, President and CEO. "As new medicines under development become more reliant on complex manufacturing capabilities in sterile and novel oral dosage forms, Dalton's clients can depend on us."
Karina Lahnakoski, Director of Quality, stated, "In today's pharma industry, contract manufacturers are key to the supply of safe medicines. The expectation of regulators is that outsourcing relationships emphasize the importance of quality and compliance, and Dalton makes this a top priority with our client's projects. This successful inspection was a direct result of our culture of quality, and Dalton's commitment to continuous improvement."
Accelerating drug development and manufacturing of novel medicines continues to be a strategic priority within the pharma industry. Dalton's provision of integrated services by combining in one location seamless product and process development, manufacturing development, and comprehensive analytical support with commercial manufacture of pharmaceuticals and APIs gives its clients a distinct competitive advantage in bringing their products to the market as rapidly as possible.
About Dalton:
Dalton Chemical Laboratories, Inc., o/a Dalton Pharma Services, is a GMP contract manufacturer that supplies chemistry, analytical and formulation development services to the biotechnology and pharmaceutical industries in the areas of medicinal chemistry and fine chemical manufacture. Dalton provides cGMP manufacturing of solid dosage forms and aseptic filling services to its customers at any stage of the regulatory process (Phase I, II, III or commercial). In its modern cGMP facilities, Dalton performs sterile powder filling and sterile crystallizations, and produces sterile active pharmaceutical ingredients (APIs) at the gram or kilogram scale. Dalton conducts aseptic filling to produce batches of finished drug product in vials or syringes, either aseptically filled or terminally sterilized, under fully validated conditions. In addition, Dalton's analytical chemistry laboratory offers method development, validation and ICH stability programs to its clients.
Further information can be found at http://www.dalton.com.
Contact:
Peter Pekos
President & CEO
Dalton Pharma Services Inc.
349 Wildcat Road
Toronto, Ontario
Tel: 416-661-2102