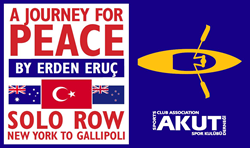 My struggle against nature will be nowhere near as daunting as the challenges that the troops had faced; they will be in my mind.
New York, New York (PRWEB) May 27, 2014
Eruç's journey for peace also honors AKUT Search and Rescue Society, a respected nongovernmental organization and one of the first responders to Turkey's recent mining tragedy, and will end by commemorating the 100th Anniversary of the Battle of Gallipoli during World War I, in which a half-a-million soldiers were either lost or wounded from all sides.
The Battle of Gallipoli was a defining moment in World War One. It precipitated the fall of the Czarist Russia and served as an awakening call for three modern nations to rise from the ashes of two collapsing empires: Turkey, Australia and New Zealand. That shared sacrifice in what is now known as "the last gentlemen's war" fostered mutual respect between the opposing troops even during pitch battle. The day of ANZAC (Australia New Zealand Army Corps) landing on the Gallipoli Peninsula on April 25, 1915 has since been commemorated in Australia and New Zealand as the ANZAC Day.
"It will be my honor to carry flags from three nations along with the American Flag on my vessel. I will also carry a black ribbon in memory of the losses by all sides in 1915. There were whole generations of young man wiped out. Many schools did not have a Class of 1915; they had been sent to the front. My struggle against nature will be nowhere near as daunting as the challenges that the troops had faced; they will be in my mind."
In July 2012, Eruç completed a solo circumnavigation of the world by traversing 3 oceans and 4 continents by rowboat, bicycle, sea kayak and walking in 5 years 11 days. The prestigious Explorers Club honored his accomplishment by giving him the 2013 Citation of Merit, Outside Magazine named Eruç 2013 Adventurer of the Year, and The Guinness Book of World Records named him the first to solo circumnavigate the earth by human power in their 2014 issue. Eruç had already been in their 2009 issue for the longest time at sea by a solo rower, an impressive 312 days, and in their 2012 issue for the first in history to have rowed the three major oceans.
Testing his physical and psychological capabilities to endure such a journey, Eruç will now leverage his past experience to cover approximately 5,700 nautical miles of transoceanic and coastal waters by himself, with no outside support or backup crew. This 9 month challenge will take Eruç across the Atlantic to the shores of Portugal, Spain, Italy and Greece before arriving at Turkey in February 2015. Eruç is already the most experienced ocean rower alive in the world. By the time he completes this new project, his career total of ocean rowing days will exceed 1,000 further reinforcing this record.
To contribute to Erden's journey please visit http://igg.me/at/NYC2GLP/x/7600461
AKUT USA invites you to follow Eruç's blogs and to monitor his progress at http://www.ajourneyforpeace.org/. Please join us at the following events for Eruç's send-off.
Farewell Party: May 31st, 1:30 PM to 6:00 PM
The Australian
20 W 38th Street
New York, NY 10018
Official Launch: June 7th, 1:30 PM to 4:30 PM
North Cove Marina
385 South End Avenue #6H
New York, NY 10280
About AKUT USA
AKUT USA is coordinating fundraising, donations and special equipment procurement activities for AKUT Search and Rescue Association in Turkey.
Founded in 1996 as a mountain rescue team, AKUT has been involved in search and rescue as well as humanitarian aid for 15 years. It was during the disastrous earthquake of 1999 in Marmara, Turkey that AKUT really matured into one of the most important search and rescue organizations in the region.
AKUT has been instrumental in search and rescue operations during crises across the globe, from Greece to as far away as Haiti.
AKUT is a member of International Search and Rescue Advisory Group (INSARAG), under the United Nations since 1999. AKUT is widely recognized as the most knowledgeable and the most experienced organization among earthquake search and rescue teams, not only in Turkey but also internationally.
http://www.akut.org.tr/en