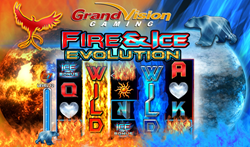 Today's consumers expect to be able to do just about anything and everything from their smart devices, so the opportunity to game on the go is in sync with that trend.
Billings, MT (PRWEB) May 27, 2014
Video gaming device manufacturer Grand Vision Gaming (GVG) of Billings, MT, announced today the launch of "Fire and Ice: Evolution," the social version of GVG's popular real money slot game "Fire and Ice" on iOS and Android. This is the first game to be published under a new creative partnership between Grand Vision Gaming and San Francisco based social mobile game developer Ruby Seven Studios.
According to Tim Carson, one of GVG's four partners and a 35-year gaming industry veteran, the partnership catapults Grand Vision Gaming into the online social game world in a big way by capitalizing on the popularity of the company's well established slot title, "Fire and Ice."
"Adapting one of our most popular slot games for mobile allows users to play anywhere, anytime," said Carson. "The ability to enjoy your favorite video slot game from the palm of your hand significantly enhances the game's entertainment value and gives new meaning to the personalization of the gaming experience. Today's consumers expect to be able to do just about anything and everything from their smart devices, so the opportunity to game on the go is in sync with that trend."
Carson said GVG is especially excited about its new partnership with Ruby Seven Studios. Millions of people have played Ruby Seven games and their titles are frequently among the most popular casino titles on Google Play, iTunes and Amazon Kindle.
"It's been a great ride so far to create a hybrid social casino game with a leading manufacturer of video game devices, said Michael Carpenter, CEO, Ruby Seven Studios. "Fire and Ice: Evolution" is the result of our partnership's first effort that combines our social and mobile publishing know-how with proven real-money game design. We're looking forward to expanding Fire and Ice to Facebook, Kindle, and even Windows Phone in the coming months."
Fire and Ice: Evolution allows players to explore a universe of six exciting slot machines, multiple expanding wilds, with innovative and exciting bonus games. Fire and Ice: Evolution is currently available on iOS and Android and will soon be available on Facebook, and Kindle.
Grand Vision Gaming
Grand Vision Gaming (GVG) LLC is a designer and manufacturer of Class III Video Gaming Machines. Established in 2008, GVG boasts a development team responsible for creating revolutionary gaming products that employ state of the art technology, highly interactive and imaginary game themes and proprietary cabinetry. As a result, GVG's maiden devices, UltraVision and PowerVision, have captured the attention of the entire industry. The four principals of GVG have combined industry experience of nearly 100 years, with extensive experience in the manufacture and operation of gaming devices throughout the Montana market, as well as the licensed jurisdiction of Nevada, South Dakota, Louisiana and Native American properties.
Ruby Seven Studios
Ruby Seven Studios was co-founded in 2012 by the former VP of Social Product Operations for PopCap Games, Michael Carpenter, and Jugul Thatchery, founder of leading Indian casual games developer, ChaYoWo Games. Their combined vision is to bring innovation to the social casino game genre with high quality titles and fresh twists on classic casino games. With over 100 employees worldwide, Ruby Seven Studios has released over 25 titles for Facebook and mobile platforms. Top titles include TimeQuest, Slots of Plunder, Ruby Seven Poker, Poker Best in 60, Big Spin Bingo and Cats vs. Dogs Slots.