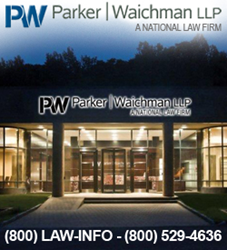 Port Washington, New York (PRWEB) May 23, 2014
California Woman Sues over Wolf Power Morcellator Used During Hysterectomy That Allegedly Spread Cancer in Her Body, Parker Waichman LLP Reports
On April 17, 2014, the U.S. Food and Drug Administration (FDA) warned that power morcellators should not be used for minimally invasive hysterectomies or myomectomies as these tools may spread a hidden cancer, significantly worsening a patient's prognosis. http://www.fda.gov/medicaldevices/safety/alertsandnotices/ucm393576.htm
Parker Waichman LLP, a national law firm dedicated to protecting the rights of victims injured by defective medical devices, reports that a California woman has brought a lawsuit over the Wolf Power Morcellator, which was used during her minimally invasive hysterectomy and which she alleges posed a risk that the tool could spread her hidden cancer. The lawsuit was filed on May 13, 2014 in the U.S. District Court for the Northern District of California (Case No. Case 5:14-cv-02209-PSG, Sarah Salem-Robinson and Alan A. Robinson v. Richard Wolf Medical Instruments Corporation).
According to the lawsuit, Plaintiff Sarah Salem-Robinson underwent a supracervical hysterectomy on May 18, 2012. During this procedure, the Wolf Power Morcellator was used. On May 30, 2012 she was told that she had a type of cancerous pelvic tumor called a leiomyosarcoma, previously believed to be a fibroid. Furthermore, she was informed that because the Wolf Power Morcellator was used during the procedure, there was a significant chance that the cancer cells had spread within her peritoneum, leading to metastatic cancer. Mrs. Salem-Robinson has had to undergo aggressive treatment and therapy because of this risk, the lawsuit alleges. The lawsuit also alleges that the woman has developed four small lesions in one of her lungs that are likely the manifestation of metastatic leiomyosarcoma caused by use of the Wolf Power Morcellator during her fibroid removal surgery.
"Thousands of women undergo minimally invasive surgeries for hysterectomy or uterine fibroid removal, and may not be aware that the use of power morcellators could spread a hidden, aggressive tumor," said Gary Falkowitz, Managing Attorney at Parker Waichman LLP. "Our firm continues to investigate cases where power morcellators may have spread the cancer."
Salem-Robinson's lawsuit alleges that the Defendants failed to warn that the morcellator could spread a uterine leiomyosarcoma throughout the peritoneal cavity, despite being aware of the risks. She and her husband are suing for negligence, strict products liability, breach of express warranty, breach of implied warranty, fraud, and loss of services.
According to the U.S. Food and Drug Administration (FDA), laparoscopic power morcellators are used to break up pieces of tissue during surgery, making them easier to remove through small incisions. On April 17, 2014, the agency discouraged the use of such devices for a hysterectomy; the removal of the uterus; or a myomectomy, which is the removal of uterine fibroids. The FDA Safety Communication states that if these tools are used in women who have an undetected uterine sarcoma, then it may spread the cancer to other parts of the body and negatively impact a patient's chance of long-term survival. The agency estimates that one in 350 women undergoing a hysterectomy or myomectomy have an unsuspected sarcoma.
http://www.fda.gov/medicaldevices/safety/alertsandnotices/ucm393576.htm
Most recently, Johnson & Johnson, considered the largest maker of devices utilized during these types of uterine surgery, announced that it was suspending sales of its morcellator tools following news of the device's potential association with the spread of cancers. In fact, Johnson & Johnson indicated that it was halting sales of the device worldwide, but would not be issuing a permanent market removal, according to an April 29, 2014 The Wall Street Journal report. The device maker first sold its morcellators in 1998 through its Ethicon unit; the suspension will affect all Johnson & Johnson morcellator products, including its "Gynecare Morcellex," "Morcellex Sigma," and "Gynecare X-Tract." (http://online.wsj.com/news/articles/SB10001424052702304893404579531961812995326)
A CBS 2 News report dated May 2, 2014 discussed how morcellator devices may spread undetected cancer, leading to serious Stage 4 leiomyosarcoma. In the case of one woman diagnosed with this serious cancer, she had undergone uterine fibroid removal with laparoscopic surgery and a morcellator six months prior. She had undiagnosed cancer in the wall of her uterus; morcellation spread that cancerous tissue. "If you cut the tumor in pieces inside of the abdomen, there is the potential of spread of the cancer throughout the abdomen, so that makes the stage of the cancer more advanced," Dr. Enrique Hernandez of Temple University Hospital, told CBS2. In another case, a woman underwent laparoscopic surgery with morcellation for her fibroid removal surgery. A tumor at a low cancer stage was morcellated and she has since been diagnosed with a high-stage cancer. (http://newyork.cbslocal.com/2014/05/01/dr-max-gomez-pelvic-cancer-and-the-riskreward-of-the-morcellator/)
There are methods in which to determine if a fibroid is potentially malignant, including conducting a specific MRI and blood flow sonograms and considering the woman's age and the fibroid's rate of growth. These enable surgeons to determine if the use of a morcellator is safe, CBS 2 News noted. (http://newyork.cbslocal.com/2014/05/01/dr-max-gomez-pelvic-cancer-and-the-riskreward-of-the-morcellator/)
Parker Waichman LLP offers free legal consultations to victims of injuries allegedly caused by medical devices, including morcellator devices, and injuries allegedly suffered during fibroid removal. If you or a loved one experienced injuries during a fibroid surgery that might be associated with a morcellator device, please contact the firm's Uterine Fibroid Removal page at yourlawyer.com. Free case evaluations are also available by calling 1 800 LAW INFO (1-800-529-4636).