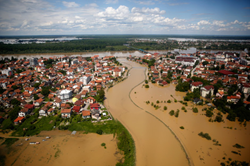 Sarasota, Fla. (PRWEB) May 22, 2014
Humanitarian relief organization, ShelterBox USA, is sending response teams to Serbia, as well as Bosnia and Herzegovina after unprecedented torrential rain caused widespread flooding, creating massive damage and destruction and forcing hundreds of thousands of people from their homes.
Three months' worth of rain fell on the region in just a few days, causing rivers to burst their banks and sweep into people's homes. Reports say these are the worst floods in the Balkans for decades.
Northeast Bosnia and Herzegovina is the worst affected area, where around 500,000 people have been evacuated or have left their homes while approximately one quarter of the country's four million citizens are currently living without clean water. Landslides have buried homes and disturbed landmines laid during the war in the 1990's.
Meanwhile, in Serbia, scores of emergency workers and volunteers have been loading sandbags along the River Sava to build barriers to prevent flood waters from entering their homes in the capital of Belgrade and other towns, such as Sabac and Stremska Mitrovica. There are also fears that various power plants that supply much of the country with electricity will be inundated.
Shelter and water filtration
"We will be following up with our in-country contacts when we arrive," said ShelterBox Response Team volunteer, Tim Vile, who is heading to Bosnia and Herzegovina with fellow response team member, Jamie Adams. "From the information we've been receiving over the last few days, it seems many displaced families are staying with relatives, friends or in evacuation centers. We are going to meet our contacts and assess the need for emergency shelter and other aid items, including water filtration."
Response team member Colin Bradbury will be carrying out need assessments in Serbia with team member, Torstein Nielsen and said, "The most affected area is to the west of Belgrade. It's going to be challenging as it's a very large area to cover, but by working with contacts in the country, we will be able to assess the need for emergency aid."
People cramped
Bradbury said, "As there are reports of large numbers of people staying cramped in schools and gyms, we are going to look at the option of offering tents to disperse the crowds, improving safety and privacy standards. We will also be looking at water filtration options."
ShelterBox continues to respond to the Syrian refugee crisis, providing emergency shelter and other essential equipment to displaced families in and around Syria, and Typhoon Haiyan in the Philippines. For the latest on ShelterBox deployments, visit http://www.shelterboxusa.org/news.
About ShelterBox USA
Since 2000, ShelterBox has provided shelter, warmth and dignity following nearly 240 disasters in over 90 countries. ShelterBox instantly responds to earthquakes, floods, hurricanes, cyclones, tsunamis or conflict by delivering boxes of aid and other supplies. Each iconic green ShelterBox contains a disaster relief tent for an extended family, stove, blankets and water filtration system, among other tools to help families survive and rebuild their lives after losing their homes and possessions following a disaster or crisis. ShelterBox's American affiliate, ShelterBox USA, is headquartered in Sarasota, Fla. Individual tax-deductible donations to ShelterBox USA can be made at http://www.shelterboxusa.org or 941-907-6036.