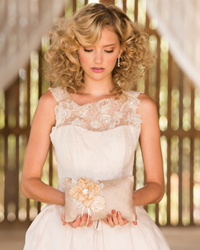 Dunmore, Alberta (PRWEB) May 23, 2014
No material has been as prominent in this year's weddings as burlap. Spurred by the increased popularity of the rustic wedding theme and vintage design, burlap décor is enjoying mass popularity among American brides.
To help couples incorporate charming antique touches into their wedding day, leader in wedding décor design Weddingstar introduces a variety of unique burlap products.
Explore burlap décor items at http://www.weddingstar.com/search/burlap.
Burlap Allows for Creativity
Combining the rustic appeal of nature and the elegance of by-gone eras, burlap décor is perfectly suited for vintage-loving brides. Yet while burlap fabric instantly adds a touch of classic antique charisma to any décor, it is also a versatile material that can be easily paired with flowers, china and other contrasting textures and prints.
These original burlap décor items can be easily mix with other materials:

Burlap Chic Ring Pillow with delicate floral and lace detail for a sophisticated look
Rolled Burlap Flowers in ivory or pink for adorning a tablescape or snack bar
Ruffled Burlap Wreath, to be placed at the ceremony aisle or on reception chairs
How to Personalize Burlap Décor
More than ever, today's couples are looking for ways to give their wedding celebration a unique and personalized touch. Weddingstar's burlap products allow easy ways to add a touch of personalization to the décor.
For a simple yet dramatic way to transform a ceremony space, Weddingstar's several styles of Burlap Aisle Runners allow couples to personalize them with their initials or wedding date.
Same look can be easily transferred to the reception space through Personalized Burlap Table Runners that feature the couple's initials, table numbers or other unique ways the couples chooses to express themselves. For smaller items such as burlap favor bags, flags or invitations, Weddingstar Burlap Chic Rubber Stamps are a great way to add a touch of customization to the reception decor.
More information and images of Weddingstar's Burlap Chic Collection can be found on http://www.weddingstar.com/search/burlap.
About Weddingstar
Weddingstar Inc. is one of the world's leading designers, manufacturers and retailers of wedding decorations and accessories. Dedicated to providing quality service to brides around the globe, Weddingstar ships to over 100 countries worldwide with distribution points in Europe, North America, Argentina, Australia and Russia. Featuring an ever-expanding selection of bridal accessories with over 3,000 different product offerings, Weddingstar is a one stop destination for every wedding need. With 30 years of experience in the wedding industry and having received numerous business awards, Weddingstar has earned a reputation as the source for 'Putting the Wow into Weddings.' For more information please visit http://www.weddingstar.com.