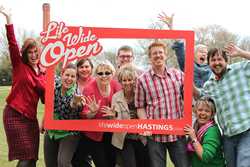 Hastings, NE (PRWEB) June 02, 2014
Hastings enthusiasts and photographers are encouraged to enter the "Life Wide Open" Facebook Photo Contest, which runs now through September 1, 2014. The contest features a $350 cash prize. The winning photo will be chosen by a vote of the public, who can view the photos on lifewideopenHastings.com.
"Life Wide Open" is Hastings' new city brand, and will be used in a variety of statewide platforms to showcase the city's best qualities to prospective business and industry owners, visitors, and citizens. The Facebook photo contest is part of a comprehensive branding campaign to promote the brand.
"Hastings is filled with enthusiastic people who love our city," said Kaleena Fong, Executive Director of the Adams County Convention & Visitors Bureau, and key organizer of the Life Wide Open initiative. "The Life Wide Open Facebook photo contest provides an opportunity to tell the world why we like it here. Getting the public involved in choosing a winner makes the contest especially fun."
To enter the Life Wide Open Facebook Photo Contest, take a digital photo of yourself – alone, as a group shot, with your favorite pet, etc. – in a setting that symbolizes what makes Hastings a great choice to visit, live, work, and/or raise a family. The words "Life Wide Open' must appear somewhere in the shot, whether it be sidewalk chalk, words jotted on paper, wearing a Life Wide Open T-shirt, near a Life Wide Open billboard, behind the Life Wide Open photo frame created especially for this purpose, or any other creative application of the words. The Life Wide Open photo frame will be making public appearances throughout the summer wherever you see the Adams County Convention and Visitors Bureau vintage Corvair van. A schedule of appearances is available at lifewideopenhastings.com.
Photos can be submitted online at lifewideopenhastings.com or on the Facebook page of Adams County Convention and Visitors Bureau, the Hastings Area Chamber of Commerce, Hastings Police Department, Hastings Fire Department, Hastings Parks and Recreation, or Downtown Business Association. Click the Life Wide Open Photo Contest icon and follow the instructions.
Once uploaded, photos appear with other contest submissions, where the public can vote for their favorites. The photo that receives the most votes by September 1, 2014, 11:59 p.m. will win the $350 cash prize. Votes are limited to one vote per person per day.
The contest is open to anyone 18 years or older. Entries may also be submitted via Twitter. Tag your photo with #lifewideopen.
Complete rules, as well as a schedule of where the Life Wide Open photo frame will be, can be found by visiting lifewideopenHastings.com. For more information, contact the Adams County Convention and Visitors Bureau at 402-461-2370, or IdeaBank Marketing at 402-463-0588.
# # #