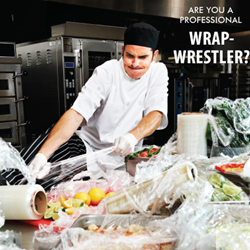 Huntington Beach, California (PRWEB) May 23, 2014
Cambro is pleased to announce a new campaign celebrating the talents of culinary and hospitality professionals. Encouraging them to use those talents for the career they truly trained for, Cambro suggests adopting the right, professional tools to help them break free of the everyday drudgery that holds them back.
The tongue-in-cheek campaign includes a series of print ads, trade show displays, blog posts, and social media posts. The campaign focuses on four common themes that drag down culinary and hospitality professionals and deter them from using their talents and training to the fullest:

The Professional Rust-Extractor – An executive chef is primed to give his rusty shelving the final brush-off and get back to the kitchen thanks to Camshelving.
The Professional Wrap-Wrestler – A sous chef is ready to push unruly wraps back into their corner and take his job back with Cambro Food Storage Containers and Lids.
The Professional Rack-Mummifier – A head steward is bound and determined to escape the wrapping madness and preserve his true job with Camracks.
The Professional Foil-sculptor – A vegetable chef is set to scrap the fragile foil and put the shine back on her career with Cambro Food Storage Containers and Lids.
Cambro has long enjoyed a close relationship with the culinary community. "Culinary professionals regularly share their stories and frustrations with us, and they are surprised to hear that some of their daily challenges are completely avoidable with the right equipment," says Cambro Director of Marketing Tania Nelson. "This campaign is our way of sharing what may be career-changing news for many. Just because it's always been that way, doesn't mean that you still have to live with it. We can help."
Culinary professionals are welcomed to "Break Free. Pro up." by visiting http://www.cambro.com/pro, a web site specially designed to help them find tools that will make a world of difference in their jobs.
Cambro Manufacturing is based in Huntington Beach, California, USA, and is a leading manufacturer and supplier of equipment and supplies to the foodservice industry worldwide. For more information about Cambro, visit http://www.cambro.com.