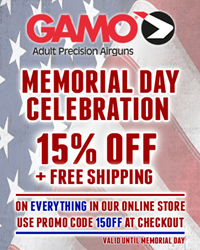 Don't miss this one!
Fort Lauderdale, FL (PRWEB) May 23, 2014
In celebration of Memorial Day 2014 Gamo Outdoor USA, (http://www.gamooutdoorusa.com) the leading manufacturer of high quality air guns, optics, and laser designators, is pleased to announce the annual Memorial Day promotion where all the people who love the outdoors will have the opportunity to enjoy Gamo®, BSA Optics, Laser Genetics, and Aftermath products with a limited time special discount if they buy directly on their websites
http://www.gamousa.com
http://www.bsaoptics.com
http://www.lasergenetics.com
http://www.aftermathairsoft.com
Gamo Outdoor USA, with U.S. headquarters based in Fort Lauderdale, Florida, provides the outdoor enthusiast with a complete line of sporting goods products consisting of air guns, air gun pellets, optics, lasers, adult air soft solutions and a variety of complementary accessories such as cleaning and maintenance kits for their highly acclaimed air rifles.
The 15% Off plus Free Shipping offer is valid at checkout with a coupon code (mentioned on the different webpages). This is good only in the US territory and will expire on May 26th at 11.59 PM.
Outdoor consumers will have a limited time to enjoy all the different products that Gamo® is currently offering, premium and new 2014 air gun products, optics, laser designators and accessories featuring the latest state of the art Gamo® technologies, including the new "Turbo Stabilizing System". The highly praised new 2014 platform which was designed to control the aggressiveness of the firing cycle – bringing the spring to a controlled stop within the chamber - adding more velocity, decreasing vibration, thus reducing recoil.
More information about this promotion will be available to see at the different social media accounts for these brands. (Facebook, Twitter and YouTube)
For press inquiries, please email Fedor Palacios, Marketing Communications Manager at: fpalacios(at)gamousa(dot)com.
To stay updated on the latest and greatest from Gamo Outdoor USA, please follow us on:
Gamousa.com
facebook.com/GamoOutdoorUSA
twitter.com/GamoOutdoor
youtube.com/GamoOutdoor
Gamo Outdoor USA is a leading consumer products company that designs, manufactures and markets a diverse portfolio of outdoor sporting goods products under such world class brands as GAMO®, BSA Optics®, Laser Genetics®, Aftermath®, and is the exclusive distributor of BSA Guns™ and Joker Knives®.