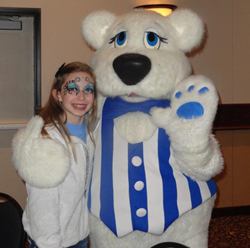 As we embark on our name change, the philosophy of people helping people as a financial cooperative will not change. We will continue to provide the same excellent service you have grown to trust. - PCU President Brian Sherrick
Woodbury, MN (PRWEB) June 02, 2014
At its recent Annual Meeting, members of Postal Credit Union (PCU) returned three incumbents to their seats on the Board of Directors. James C. Bryan, Keith E. Hauge and Lisa M. Liddell will all serve another 3-year term. A total of 476 members and guests attended the Annual Meeting, held April 27 at the Prom Center in Oakdale.
At the meeting, PCU President/CEO Brian Sherrick talked about the upcoming name change to Ideal Credit Union, effective June 4, 2014. "On October 14th, 2013, our membership voted overwhelming to change our name to Ideal Credit Union, a strategic move to reflect the diversity of our membership and help prepare our credit union for the future of financial services on the web," Sherrick stated. "The name change transition has started and over the next 60 days you will see new signs, websites and ATMs. "
"As we embark on our name change, the philosophy of people helping people as a financial cooperative will not change. We will continue to provide the same excellent service you have grown to trust and we will continue to adhere to the seven principles of cooperatives," Sherrick said.
The change to Ideal was a thoughtful and strategic move by management and the credit union's Board of Directors. Extensive research showed the credit union needed a name that would better align it with its broad and diverse community-based membership, and provide a foundation for growth in the years ahead. There is no merger, no new ownership and no new management.
The Annual Meeting also featured kid-friendly activities, including a magic show, face painting, balloon animals and carnival games, hosted by kid's club mascot Bucky Bear.
At its May meeting, board members picked the newly re-elected Hauge to serve as Chairman of the Board. Peter Olsen will serve as Vice Chair and Dan Blees will continue his role as Secretary.
Founded in 1926 as St. Paul Postal Employees Credit Union, PCU/Ideal Credit Union is a member owned financial institution that specializes in providing excellent member service, great rates and convenience. PCU/Ideal CU offers a complete range of services, including 24/7 loan approval, mortgages, online banking, online deposits, mobile banking and bill pay, free checking, business services, investment services and more. PCU/Ideal CU serves the Twin Cities metro area with office locations in Eagan, Hugo, North St. Paul, West St. Paul and Woodbury. For more information, call 651-770-7000, 800-247-0857 or visit http://www.idealcu.com.