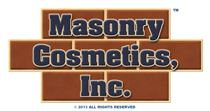 Visitors to our new website can start the process of engaging Masonry Cosmetics to provide professional brick matching and staining services.
South Bend, Indiana (PRWEB) May 24, 2014
Representatives of Masonry Cosmetics, Inc. today announced the launch of a new website featuring expanded informational content, brick matching service, instructional videos and links to the company's related websites providing building professionals and homeowners alike with access to turn-key brick matching and staining kits.
Don Foster, Masonry Cosmetic's vice-president said, "The launch of the new site is the culmination of a long-term strategy to give architects, building professionals and do-it-yourselfers an easy-to-use information portal explaining everything they need to know how to permanently match or stain brick, masonry, or mortar and to also color enhance the lost color of concrete pavers."
The company worked with Precept Partners to design and develop the new website. Stephen Antisdel, manager of Precept said, "The new Masonry Cosmetics website functions as the hub of the company's growing network of specialized websites designed to serve the specific needs of different markets. We think this "hub and spoke" approach works well when a company serves distinct customer segments, each with different needs. It allows each site to "speak" directly to that customer far more effectively than trying to crowd multiple marketing messages into one website."
Mr. Foster continued, "Visitors to our new website can start the process of engaging Masonry Cosmetics to provide professional brick matching and staining services, or they can link out to our other websites designed to serve building professionals and contractors, as well as homeowners interested in doing the work themselves." The new website can be accessed at http://www.MasonryCosmetics.com.
Mr. Foster added, "For building professionals who work with many types of brick and masonry surfaces, we also provide users of our BrickmanStainKit with access to an instructional website with even more technical data and application information. We're focused on insuring every brick matching and staining project using our proprietary products has every opportunity to come to a successful end."
About Masonry Cosmetics:
Masonry Cosmetics is a developer and manufacturer of a proprietary masonry staining and renewal process that permanently bonds with any porous masonry product including brick, block, mortar, natural and manufactured stone. The process has been independently tested and verified to have a life expectancy of over 40 years. Masonry Cosmetics provides staining services and also offers a full line of masonry staining kits sold throughout the United States and Internationally. Professional kits ideal for general contractors and masons can be found at http://www.BrickmanStainKit.com; a smaller "do-it-yourself" size kit is offered at http://www.BrickMatchKit.com. Additional details on the company and its masonry staining technology is available at http://www.MasonryCosmetics.com.
About Precept Partners:
Precept Partners provides award winning website design, development and online marketing services proven by more than $100MM in online sales. Launched in 2003, Precept today serves clients in e-commerce, manufacturing, technology, the arts, and not-for-profit sectors. Media recognition for Precept's principals includes The Wall Street Journal, BusinessWeek, Investors' Business Daily, Business 2.0, Furniture Today, and NPR. Client awards include the Inc. 500, the Internet Retailer 500, the Hot 100 Best Retail Websites, the Webby Award for website design and many others. For more information visit http://www.PreceptPartners.com.