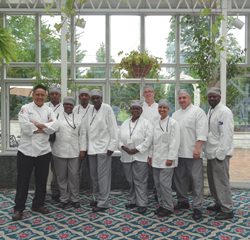 Paterson, New Jersey (PRWEB) May 27, 2014
The Culinary School at Eva's Village is a private vocational school certified by the New Jersey Department of Education and Department of Labor and Workforce Development. The school was established to provide job training and placement in the food service industry for adults interested in attaining careers in the culinary profession. The five-month course provides fundamental cookery skills appropriate to basic positions in professional food preparation. Part of the curriculum includes workplace readiness skills, mentoring, guest-chef lectures and tours of fine dining and corporate dining room kitchens.
Students received a tour of The Keller Family's Rod's Steak & Seafood Grille and GK's Red Dog Tavern as well as the family's Madison Hotel. Executive Chef Bobby Varua and Kathy (Keller) Donohoe greeted the student-chefs and provided a presentation on the history of the Restaurant which began as Rod's 1890's Restaurants, Inc. in 1936 by Kathy's father, Gerard "Rod" Keller, Sr. The current site on the corner of Madison Avenue and Convent Road began as a small log cabin called "The Timbers". Kathy and her brothers, L. Robert Keller, D. Peter Keller, Eugene J. Keller and Richard C. Keller continued the business after the loss of their father in 1972. Less than 10 years later, they opened The Madison Hotel to welcome guests worldwide. D. Peter Keller serves as a member of Eva's Village board of directors and the Culinary School advisory board. Both he and his family are steadfast supporters of Eva's Village as well as many Morris County charities.
In an effort to provide hands-on experience and mentoring for the chefs-in training, Peter Keller organized a comprehensive visit to his family's Restaurant and Hotel facilities. In addition, both he and his Executive Chef Bobby Varua have been helping the students with resumes and interviewing skills. The students visited the expansive kitchens, butchering and prep areas and participated in fruit carving with Chef Abraham Chavez and pastry piping with Chef Keith Settembrino. Chef Abraham also demonstrated ice carving.
Rod's Steak & Seafood Grille is one of twelve restaurants that have signed on to provide the student chefs with an externship opportunity. During this final month of training they will receive hands-on experience where they will apply both the professional and technical skills they've learned at The Culinary School at Eva's Village. "We are privileged to be part of this important job training opportunity at Eva's Village," commented D. Peter Keller. "Providing people with sustainable job skills is a critical need in our communities and the food industry is a leader in this cause."
For application information on The Culinary School at Eva's Village, contact: Donna Marie Fico, Director of Marketing & Education – Phone: (973) 523-6220 Ext. 230 or email Culinary.School(at)evasvillage(dot)org. To support The Culinary School at Eva's Village or one of our other programs, visit http://evasvillage.org/donate2.shtml.
About The Culinary School at Eva's Village:
The five-month course provides fundamental cookery skills appropriate to basic positions in professional food preparation. Four-week modules include: Introduction to Culinary Arts/Breakfast Cookery, Buffet Prep/Short Order, Garde Manger/Pantry, and Introduction to Baking and Pastry Arts. Topics cover recipe and menu genres, culinary math, knife skills, safety and sanitation, and breakfast cooking. Students will also be coached in workplace readiness and life skills throughout the modules. As students advance through the modules they practice cooking techniques, including soup, stock, and sauce production, vegetable and starch cookery, and scratch preparation of salads and dressings. More advanced classes cover meat and seafood fabrication and cooking techniques; Garde Manger practices; and baking and pastry cooking techniques and production. The final module includes a four-week industry externship with post-externship placement services.
About Eva's Village:
Eva's Village (http://www.evasvillage.org), originally a New Jersey soup kitchen, was founded in 1982 by Msgr. Vincent E. Puma in response to the increasing incidence of homelessness in his Paterson, NJ parish. But Msgr. Puma soon realized that a soup kitchen was not enough. With the generous support of thousands of donors and private and government grants, Eva's has grown to be the most respected anti-poverty program in New Jersey. Their mission is to feed the hungry, shelter the homeless, treat the addicted and provide medical and dental care to the poor with respect for the human dignity of each individual.
About Rod's Steak & Seafood Grille:
Rod's Steak & Seafood Grille is an area landmark offering lunch and dinner daily as well as the finest Sunday Brunch in New Jersey complimented by the haute cuisine of Rod's esteemed Executive Chef Bobby Varua. The restaurant's design features rich wood paneling and highly polished brass that lend a classic elegance to the sophisticated dining experience. For an intimate and unique experience, dinner aboard the private Parlour Cars is sure to be remembered. The restaurant has received many accolades including the 2009 Restaurant Neighbor Award (Mid-Sized Business), presented to D. Peter Keller, (Chatham) owner of Rod's Steak and Seafood Grille, (Morristown) which honors charitable contributions.