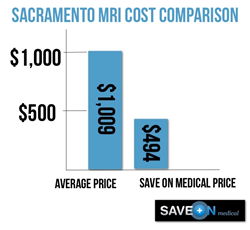 We are excited to be providing price transparency to the uninsured population in California (27%).
San Francisco, CA (PRWEB) May 23, 2014
Save On Medical is pleased to announce the addition of 141 new imaging centers to their healthcare shopping website across the state of California.
The state of California has one of the highest rates of uninsured residents in the US, tied for #6 on the list at 19%, according to the Kaiser Family Foundation's website.
For patients without insurance, or those that have high deductibles, Save On Medical can save them up to 80% on their procedure by scheduling appointments through the website.
Save On Medical also values price transparency, a growing problem in today's healthcare market, which is why costs are listed clearly on the website. The lack of transparency in most healthcare centers leads to higher costs and increased difficulty for patients looking to schedule a procedure.
To find prices in your city; go to: http://www.saveonmedical.com.
New providers have been added in the following cities: Covina, Long Beach, Yreka, Glendora, Los Alamitos, Oakdale, Salinas, San Dimas, San Gabriel, San Ramon, St. Helena, Hayward, Beverly Hills, Ontario, West Covina, Pomona, Santa Ana, Garden Grove, Glendale, Sun City, Palm Desert, Palm Springs, Murrieta, Rancho Cucamonga, Temecula, La Quinta, Lake Elsinore, Anaheim, Fremont, Lafayette, Concord, Montclair, Los Angeles, Fallbrook, Mission Viejo, Loma Linda, El Centro, Pasadena, Chico, San Jose, West Hills, N Hollywood, San Francisco, Simi Valley, Redondo Beach, Beverly, Beverly Hills, Toluca Lake, Camarillo, Corona, Bermuda Dunes, Indio, Sacramento, Victorville, Emeryville, Fresno, Moreno Valley, Riverside, La Mirada, Long Beach, Lancaster, Encino, Barstow, Modesto, Pleasanton, San Leandro, Walnut Creek, Reseda, Orange, Oxnard, Pittsburg, Rancho Mirage, Thousand Oaks, Van Nuys, San Jacinto, Valencia, Santa Rosa, Simi Valley, Stockton, Bakersfield, Taft, Tehachapi, Vacaville, Vallejo, Redwood City, Los Gatos, Mountain View, Ventura, Apple Valley, Irvine, Laguna Nigel, Westlake Village, Alameda, San Diego, and Whittier.