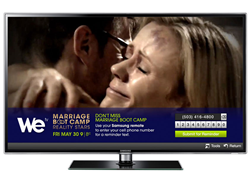 'PROMOTIONS+ makes our promotional tune-in inventory more effective and impactful. The initial results have been strong and we believe ... it will continue to help drive viewership.' - Jen Robertson, WE tv's SVP of Digital Media & Business Development
New York, NY (PRWEB) May 23, 2014
Ensequence, the leading innovator for advanced media products and services, today announced the launch of PROMOTIONS+™, a new national advertising product that makes cable networks' own promotional spots interactive. The product has launched with cable network partner WE tv, an AMC Network showcasing the modern woman, on select Samsung Smart TVs. PROMOTIONS+ offers a simple way for consumers to request a reminder text for an upcoming television program via an interactive prompt displayed on a program's promotional spot. The viewer is provided with an easy way to remember to watch shows that interest them, while networks gain increased ratings and valuable insight into the effectiveness of their promotions.
WE tv signed on as an initial launch partner for PROMOTIONS+ offering their viewers new interactive promotional capabilities, and has run three campaigns to date. Over the course of the campaigns, WE tv has seen 25% of the viewers who interacted with the spot opt-in for an SMS reminder. Additionally, initial interaction rates were as high as 3%, significantly above standard rates for other direct response media such as internet advertising or direct mail; representing the potential to deliver millions of program reminders, translating into increased ratings for programmers.
"PROMOTIONS+ makes our promotional tune-in inventory more effective and impactful. The initial results have been strong and we believe – as Ensequence rolls out the product across distributors – it will continue to help drive viewership," stated Jen Robertson, WE tv's Senior Vice President of Digital Media and Business Development.
"We are thrilled to be working with WE tv to bring valuable interactive advertising capabilities to market with our distribution partner, Samsung," stated David Kline, Ensequence's Chief Operating Officer. "Ensequence is partnering with a variety of distributors including cable, satellite and telco operators, and is on track to have initial reach of 30 to 40 million households by the end of 2014, which will represent the largest footprint ever assembled for interactive television advertising."
# # #
About Ensequence
Ensequence, Inc. is the premier full-service interactive media company, providing a suite of advanced products for programmers, service providers and advertisers. Ensequence's products drive deeper engagement, increases in programming ratings, advertising effectiveness and new ad opportunities across cable, satellite, telco and connected devices. Ensequence's customers include the largest and most innovative programmers and service providers in the media industry: NBCUniversal, Viacom Media Networks, Showtime Networks, Turner Broadcasting, HBO, QVC, WE tv, MSG, Fuse, Comcast, Time Warner Cable, DISH Network and Verizon. In addition, Ensequence is deployed on multiple connected device platforms. Ensequence's lead investor is Myrian Capital (http://www.myriancapital.com), a growth capital management firm with investments in video communications, mobile media and advanced advertising solutions. Ensequence and PROMOTIONS+ are trademarks of Ensequence, Inc. To learn more, visit http://www.ensequence.com and follow Ensequence on Twitter.
About WE tv
WE tv (http://www.wetv.com) showcases and celebrates modern women who are bold, independent and taking control of their lives. Whether they are celebrities like Joan Rivers or Toni Braxton, or everyday women, their stories are as relatable as they are entertaining. WE tv's popular slate of fresh and modern unscripted original series includes the hit shows Braxton Family Values, Joan & Melissa: Joan Knows Best? and Mary Mary, among others. WE tv will debut its first scripted series, The Divide, in 2014. Audiences connect to WE tv online, on demand and via social media. WE tv is owned and operated by AMC Networks Inc. and is available in over 85 million homes on every major cable, satellite and telco provider.