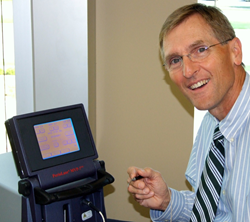 Garland, TX (PRWEB) May 22, 2014
Patients who are in search of a gum disease treatment in Garland that is both effective and minimally invasive can now receive the Laser Assisted New Attachment Procedure (LANAP®) from Dr. Kerry Goad. This ground breaking procedure is highly effective at targeting bacteria that cause gum disease symptoms, including bleeding and inflamed gums, loose teeth, and bone loss.
There are many different conditions that fall into the category of gum disease symptoms such as bone loss, inflamed gums, tooth loss, and bad breath. Some of the risk factors for gum disease include genetic predisposition, poor dental hygiene, smoking, and diabetes.. In order to combat the symptoms and risk factors of gum disease, it is important for patients to receive timely gum disease treatment in Garland. While traditional gum surgery has been around for many years and is an effective treatment method for many gum disease patients, the invention of LANAP® has made it possible to treat gum disease without some of the unpleasant side effects associated with traditional gum surgery.
Periodontal disease patients may become victims of tooth loss as the disease progresses and causes their gum and bone tissues to degrade. Dental patients who suffer from loss of teeth are also more susceptible to losing additional bone in their jaw. This loss of bone can lead to serious complications and difficulty speaking and eating. Those who are seeking to avoid the side effects of lost teeth and accompanying bone degradation may be able to receive relief from their gum disease symptoms by undergoing minimally invasive LANAP®.
LANAP® is very effective at treating gum disease, but it can also be used to counter loss of bone in the jaw. The advanced laser technology utilized during the procedure helps to stimulate bone growth in the jaw and encourages the gums to reattach to the teeth. Because of its two pronged approach of treating diseased gum tissue and stimulating jaw bone growth, LANAP® is a highly recommended treatment option for dental patients who are suffering from gum disease and loss of bone in their jaw.
Dr. Goad encourages patients to seek immediate LANAP® gum disease treatment in Garland in order to reduce their symptoms and combat bone loss in the jaw.
About The Doctor
Goad Dental is a general practice offering patients personalized dental care in Richardson, TX. Dr. Kerry M. Goad received his Doctor of Dental Surgery (DDS) from Baylor College of Dentistry in Dallas, Texas. He completed advanced training in restorative dentistry at the L. D. Pankey Institute in Key Biscayne, Florida, and is part of one percent of dental professionals providing the LANAP® FDA cleared laser procedure for gum disease treatment. To learn more about Goad Dental and their dental services, visit their website at http://www.dallasgumsurgery.com and call (972) 690-6653.