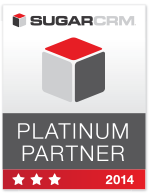 'Sugar's latest release is a game changer,' said BrainSell President Jim Ward.
Topsfield, MA (PRWEB) May 23, 2014
BrainSell, a leader in the CRM, ERP and marketing automation industry, announced they will be offering a complimentary webinar on the SugarCRM v7 upgrade on Tuesday, May 27 at 1:30 p.m. EST.
The webinar will feature an overview of SugarCRM v7 including the upgrade schedule and what to expect, plus the opportunity for customers to ask Sugar experts from the BrainSell team any questions they may have about their Sugar upgrade.
"Sugar's latest release is a game changer," said BrainSell President Jim Ward. "The UI went through quite a facelift and we love the results. The inline editing, dashboarding concepts and activity stream are some of the biggest changes in the product and we're excited to show customers and prospects what they'll be getting in this latest release."
Some of the new capabilities that will be available through Sugar v7 include a new embedded Intelligence Panel provides 360-degree business, online, and social customer intelligence from a single screen. In addition, Sugar will offer a revolutionary new approach to social networking, providing enhanced activity streams that are fully CRM integrated to provide in-context, real-time updates on each account. Powered by HTML 5, all of these features will be available at top speed across tablet, desktop and mobile devices.
In addition, BrainSell is also offering an open demo every other Tuesday at 2 p.m. EST. which gives clients and potential clients the opportunity to get any questions they may have about their customer relationship management needs answered by the team of Sugar experts.
To sign up for the upgrade webinar, visit this website. To learn more about the biweekly demos, visit this website.
About BrainSell
BrainSell is a business solutions company that is dedicated to helping businesses grow, create a delighted customer base and achieve grand success. BrainSell provides comprehensive ERP, CRM, and marketing automation solutions and services, including training, implementation and software development. Founded in 1994 and headquartered in Topsfield, Massachusetts, BrainSell continues to grow in product knowledge and offerings. Visit http://www.brainsell.net to start improving sales and productivity today. Visit http://www.brainsell.net for more information or email info(at)brainsell(dot)net.
Follow BrainSell on Facebook and on Twitter at http://www.twitter.com/brainsell.