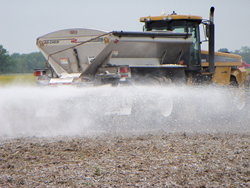 Gypsum is a very economical way to increase soil productivity on the farm.
Chicago, IL (PRWEB) May 28, 2014
Soil productivity improvement is increasingly emphasized in managing crops and it is a chief reason farmers apply agricultural gypsum. A new agreement between the GYPSOIL division of Beneficial Reuse Management (BRM) and DTE Energy will make gypsum from DTE's Monroe Power Plant, in Monroe, Mich., available to growers in Michigan, Ohio and Ontario, Canada.
"Growers throughout the Midwest, Plains and South have already realized significant economic returns from agricultural gypsum applications, including improved soil quality, increased yield, and greater nutrient efficiency," says Robert Spoerri, chief operating officer of Beneficial Reuse Management. "The agreement with DTE Energy will allow more growers to experience the benefits of GYPSOIL brand gypsum to improve their soil quality and maximize the productivity of their acres."
GYPSOIL will market flue gas desulfurization (FGD) gypsum produced by the Monroe plant's modern wet scrubbers that clean sulfur emissions from flue gasses and improve air quality. Already available in 22 states, GYPSOIL brand gypsum is used by crop growers as an effective tool for managing tight soil structure, improving water infiltration, reducing runoff and nutrient loss, and helping growers attain higher yield potential.
The Monroe Power Plant is located along the western shore of Lake Erie. It is one of the largest coal-fired power plants in the United States. The plant has four generating units and a maximum output of 3,300 megawatts when all four units are operating.
For centuries, crop producers have relied on gypsum to improve soil quality. However, its use in agriculture was limited to areas where gypsum mining occurs, in part due to high transportation costs. The modern availability of FGD gypsum, which contains fewer impurities than mined gypsum, offers new supply options to agricultural producers.
Improved Soil Structure and Efficiency of Crop Nutrients
GYPSOIL brand gypsum contains 17-20 percent calcium and 13-16 percent sulfate sulfur, an immediately available form of sulfur. Sulfur is an essential crop nutrient that is often found to be lacking in soils today.(1)
"Gypsum applications help to improve soil structure, which helps improve water infiltration, reduce crusting and curtail runoff. This allows plants to establish a healthier root system for better nutrient absorption and improved yield," says Ron Chamberlain, lead agronomist for GYPSOIL. "Gypsum is a very economical way to increase soil productivity on the farm."
A recent study on the economic impact of gypsum performed by two leading agricultural economists identified increased yield, nutrient availability and long-term soil productivity improvements as key benefits of long-term gypsum application. Experienced growers reported a return of 5:1 or higher for alfalfa and 2:1 or higher for corn. There were also excellent returns for other crops such as soybeans and wheat.(2)
Research has also shown gypsum offers a multitude of positive environmental benefits. The Ohio State University is currently leading research in Ohio to determine the impact of gypsum on water quality improvements. Early results are promising and gypsum has shown a positive impact in stabilizing phosphorus and protecting water quality.(3) Gypsum is also a tool to reduce topsoil loss.(4)
For more information about gypsum for agriculture, visit Gypsoil.com or call 1-866-GYPSOIL (497-7645).
About GYPSOIL
GYPSOIL is a division and trade name of Beneficial Reuse Management, LLC. Its mission is to help crop growers improve their soils and increase productivity while conserving natural resources and protecting the environment. GYPSOIL brand gypsum is now available through distributors in 22 States in the Midwest, Plains and South. GYPSOIL manages gypsum distribution and marketing programs for a wide range of supply partners including utilities and manufacturing companies, diverting valuable co-products from landfill disposal to productive use as agricultural inputs.
– END –
GYPSOIL Division of Beneficial Reuse Management LLC,
1-866-GYPSOIL (497-7645) ● Gypsoil.com
372 West Ontario Street, Suite 501, Chicago, IL 60654
Follow us on Twitter @gypsoil ● Like us at Facebook.com/pages/gypsoil.
(1) The Fertility of North American Soils, 2010, Bulletin Summary, International Plant Nutrition Institute, March 2011.
(2) Batte and Forster, Economic Impact of Gypsum, Bulletin Summary, GYPSOIL, Jan. 2014, Gypsoil.com
(3) New Results from Research using Gypsum to Combat Water Pollution, Abstract produced by Greenleaf Advisors, LLC, Spring 2014.
(4) Norton, Gypsum soil amendment as a management practice in conservation tillage to improve water quality. Journal of Soil and Water Conservation, March/April 2008.