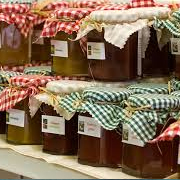 "It's of the utmost importance that farmers produce an eye-catching label that also covers all the bases and discloses all the requisite information," said AnneMarie Campbell, Director of Business Development, Lightning Labels.
Denver, CO (PRWEB) May 27, 2014
The summer months are coming, which is the perfect time for farmers to design custom jam labels to help them sell their home-grown products at farmers' markets to eager customers. Farmers' markets are huge business opportunities in the summer because people look to spend more time outside to enjoy the warm weather. Farmers' markets provide a chance to bask in the sun while also doing some much needed food shopping.
Competition is often fierce at farmers' markets. Fortunately for growers, Lightning Labels - a custom label and sticker printing leader - can help them stand out from the crowd while simultaneously conveying all the necessary nutritional information about their products to prospective buyers.
"For farmers, labels serve a dual purpose. Not only do they differentiate a product and attract the attention of shoppers, they are also critical to ensuring consumers are informed about how the item was grown, the contents of the product and any nutritional information," said AnneMarie Campbell, Director of Business Development, Lightning Labels. "For that reason, it's of the utmost importance that farmers produce an eye-catching label that also covers all the bases and discloses all the requisite information."
Custom Food Labels that Can Win Over Customers
In a sea of competition, custom food labels play a pivotal role in promoting a grower's products. One report from Portland Farmers Markets found that the number of farmers' markets opened over the past few decades has grown by 150 percent.
At the same time, rising prices at conventional grocery stores are causing many Americans to look elsewhere. A separate study by Bard College's Center for Environmental Policy found that prices at farmers' markets were lower than traditional grocery stores, which should help growers woo cost-conscious customers to their stores.
Custom food labels are farmers' tool to help them increase sales. An eye-catching label with vibrant colors, accurate descriptions of the way products were grown, an origin locator and even recipe ideas can go a long way to encourage customers to buy one product over the other and establish the farmer as a recognized brand.
Personalized Jam Labels Bolster Customer Loyalty
Growers can further secure sales and bolster sales by leveraging personalized jam labels. This ideal for farmers selling in bulk to other businesses, allowing growers to personalize labels to the needs of their customers. Conversely, farmers may also want to use personalized labels if they are selling food in multiple regions or if they just want to celebrate loyal patrons for their repeat purchases.
Those looking to make an impact at farmers' market and attract the attention of local shoppers should consider working with a label printing company to produce professional stickers and labels. By working with a label printing firm, growers can rest assured they'll get high-quality stickers that will convey a sense of professionalism.
Lightning Labels is now offering 10 percent off new label orders placed online through May 30, 2014, using promo code MDAY14 at checkout. Maximum discount is $1,000. Free ground shipping applies to orders placed online only and shipped within the U.S. and Canada. This offer is not valid on reorders and cannot be combined with any other offers or promotion. Visit Lightning Labels.com for more information or updated promotions.
About Lightning Labels:
Lightning Labels uses state-of-the-art printing technology to provide affordable, full-color custom labels and custom stickers of all shapes and sizes, and now offers a full line of custom packaging products. From small orders for individuals, to the bulk needs of big businesses, Lightning Labels is equipped to handle and fulfill sticker, label and product packaging projects of all types. Best of all, like the name implies, Lightning Labels provides a quick turnaround to every customers' labeling and product packaging needs. Uses for Lightning Labels' custom product labels and custom stickers include food packaging and organic food labels, wine and beverage labels, bath and body labels, and nutraceutical products, such as vitamins, essentials oils, and herbal remedies, as well as event stickers, adhesive window stickers and more. Lightning Labels strongly supports the development of environmentally friendly printing materials and carries EarthFirst PLA, a new kind of green label material made from corn instead of petroleum. While operating as a high-tech printer, Lighting Labels prides itself on its personalized customer service. Lightning Labels provides one stop shopping for all of your label and product packaging needs. For more information and to place orders online, visit LightningLabels.com. For the latest in packaging news and labeling promotional offers, find Lightning Labels on Twitter (@LightningLabels), Facebook, Pinterest, Google + and LinkedIn.