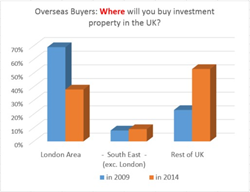 For the same budget as 'one' London property, an overseas investor could get 'five' properties in Manchester/Lancashire area, have higher rental yield of around 8%, potentially greater capital growth, and more future flexibility.
UK (PRWEB UK) 28 May 2014
Previous surveys done by Find UK Property have shown London to be the main location sought by overseas investors looking for UK Property. However, their latest survey shows that this is now changing.
Many residents of other countries see the UK as a "safe haven" when considering long term investment in property. The UK property buying process and selling laws are well regulated and long term title ownership is clear cut. In the past the main desired location has been London due to its familiarity with buyers from most countries, who may visit London and may also have existing links with relatives and contacts in the capital.
The attractiveness of London has remained throughout the recession and part of the prices increases here may have been fuelled by strong demand from overseas buyers. However, because prices in London have soared by over 45%, over the past 5 years, rental yields as a percentage of price have fallen, and in many areas are around just 3%. On the other hand, prices of low cost property in other areas such as the North West including Lancashire, Manchester and Liverpool, has gone down and rental yields increased over this same time period. These changes are finally having an effect on the views of overseas investors.
A survey conducted in April 2014 by 'Find UK Property' on the buying intentions of overseas buyers looking for property in the UK, shows a marked shift from the results of a similar survey conducted in 2009.
In the 2009 survey, only 31 % of clients were considering a property purchase outside London. The comparable figure in the 2014 survey is much higher, almost double, at 61%.
Clients who were no longer considering London were asked to specify their main reason for not doing so. The top 3 reasons given are shown here:-
36% - London prices now too high and exceed budget
29% - London rental yield low compared with rest of UK
21% - Future London growth may be less than rest of UK
Andy Noble, Senior Marketing Consultant at Find UK Property explains that this increased tendency for buyers to consider other areas of the UK, has had a big positive effect on his own company which specializes in selling low cost investment properties in the North West of England. "Find UK Property helps overseas investors purchase low cost fully managed property in the UK. Many of our customers are investors based in the Middle East and Far East who purchase via our partner company, Sandcastles based in Dubai. This trend away from London had recently increased the demand of our low cost 2-bed and 3-bed houses, particularly in the Lancashire area. These 2-bed houses at £52,995 are much lower cost and come with 8% rental yield which is more than double the rental yields of properties in London."
He added: "The same 2-bed house on the outskirts of London could cost over £250,000 and deliver around 3% rental yield. Thus, for the price of 'one' house in London, an overseas investor could get 'five' similar properties in the Lancashire area, have double the rental yield of around 8%, potentially greater capital growth, and more future flexibility in that some properties could be re-sold whilst others retained."
However, it was noted in the survey that even though there was this large increase in the percentage of buyers looking for property outside London, the capital still remains favoured by well over one third of all overseas property buyers looking for investment property in the UK. An even higher percentage of overseas buyers continue to consider London when searching for 'own use' properties and properties over £1m.
About "Find UK Property"
Find UK Property are the 'buyers' agent and specialise in helping serious overseas buyers find the most suitable investment property for their needs. The company conduct regular surveys on overseas investors and findings are printed at their "UK Property News" Blog at http://blog.findukproperty.com.
The most popular purchase are the fully managed low cost houses in the price range of £50,000 to £70,000 that come with full management, repair guarantees, and guaranteed rent. Many clients are seasoned investors who may have purchased investment property in other countries via sister companies Openshore Property and Sandcastles based in Dubai. Further details can be found on the Find UK sales website at http://www.findukproperty.com