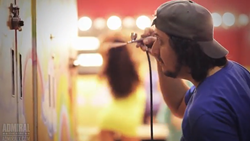 Chicago, IL. (PRWEB) May 28, 2014
The World Famous Admiral Theatre has transformed its private dancers' dressing room with a massive mural painted by an up-and-coming local artist. The mural extends throughout the entire locker room facility, (covering thousands of sq. ft.) and took the artist several months to complete.
When asked about the project, the marketing director stated that "the goal of the whole project was just to use art and color to change the mood in the room. We want The Admiral to be a place that is fun for our guests but is also a fun place to work, and that starts with making our facility an enjoyable place to be for everyone."
The artist, a 31-year-old born and raised Chicagoan known as @Leekovision, was commissioned by The Admiral and given access to the never-before-seen-by-the-public, private, dancers' locker room facilities.
"When [The Admiral] first approached me, I felt honored to be part of a historic Chicago icon. The whole experience was cool; all of the girls and management team were fantastic to work with."