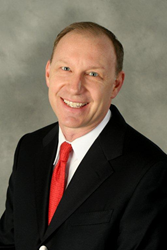 Annandale, VA (PRWEB) May 26, 2014
Dr. William Dougherty is announces the availability of an effective treatment method, using dental implants in Annandale to replace missing teeth, called All-on-4. This revolutionary technique uses only four dental implants to create a new set of teeth for those suffering from tooth loss and is less expensive than tooth replacement with multiple traditional implants.
Annandale dental patients may suffer from tooth loss for a variety of reasons, including accidents, injuries, gum disease, illness, and natural degeneration related to old age. When teeth are lost due to one or more of these reasons, it can lead to discomfort and difficulty with common tasks such as eating and speaking. Tooth loss leads to degradation of bone in the jaw, which can cause the teeth to shift and become displaced in the mouth. In order to decrease these unpleasant problems, it is important for patients to replace missing teeth as soon as possible. Patients who do not have enough healthy bone tissue to receive multiple individual dental implants in Annandale can now receive a tooth replacement procedure called All-on-4™. Dental patients who are dealing with tight budgetary restrictions or insufficient bone density and do not want to be fitted with traditional dentures can take advantage of this affordable and effective dental implant technique.
All-on-4™ differs from traditional tooth implants because the procedure combines both implants and denture devices in order to maximize comfort and effectiveness while minimizing costs. The technique only uses four implants and is designed to make the best use of available bone tissue, which is an important factor for patients who have very low bone volume or density. Some patients who do not have enough bone density to qualify for multiple traditional implants may still be candidates for the All-on-4™ procedure. Another advantage of All-on-4™ is that additional bone grafting processes are often not required due to the strategic placement of the four dental implants utilized during the procedure.
Patients who are not candidates for multiple dental implants in Annandale are invited to schedule an appointment with Dr. Dougherty's office and find out if they qualify to receive All-on-4™ as an affordable and effective alternative to replace missing teeth.
About The Doctor
William V. Dougherty, III, DDS is a general dentist offering patients personalized dental care in Falls Church, VA. He is part of one percent of dental professionals providing the LANAP® FDA cleared laser procedure for gum disease and periodontal treatment. To learn more about William V. Dougherty, III, DDS and his dental services, visit his website at http://www.doughertylaserdentistry.com and call (703) 584-7554.