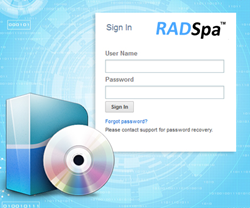 Why RADSpa? "Anywhere anytime installation with minimum bandwidth as per customer priority"
Vadodara, Gujarat (PRWEB) May 26, 2014
Telerad Tech is pleased to announce the deployment of its Cloud based Radiology Intelligence System with an integrated image management (PACS) solution RADSpa at new sites in Gujarat, one in Morbi and the other in the now famous town of Vadodara. Gujarat has ushered in a paradigm shift in the healthcare sector by conceiving new initiatives backed by quick and efficient execution. Telerad Tech is a technology company aiming to solve the radiology workflow problems of healthcare IT. The installations in Gujarat are among its 15 new installations in various parts of India this past quarter of 2014.
RADSpa is a radiologist's nirvana with multilingual support and has gained popularity with its upgraded versions over the years breaking the boundaries of traditional RIS, PACS. The software is used by healthcare providers for diagnosis of medical images from modalities such as CT, CR, US, MRI, etc.
Telerad Tech constantly innovates and recently added multiple product lines to its armamentarium- 'CARDIOSpa' (Tele- Cardiology made easy) which was launched successfully at APPCS-2014 (Asia Pacific Pediatric Cardiac Society) and 'DENTSpa' (For dental workflow of dental radiologists).
Mr. Ricky Bedi, CEO – Telerad Tech, said, "Radiologists are facing increasing numbers of images per study, high volumes of daily exams, and the need for short turnaround times for issuing final reports, making it more and more challenging to meet productivity requirements while maintaining diagnostic accuracy. With RADSpa patented routing technology optimized for low bandwidth, we enable fast transmission of data, resulting in better diagnosis turnaround time, in addition creating a differentiation factor for our customers in terms of patient care and quality."
Mr. Ravi Kaushik, VP – Teleradiology Solutions, said, "RADSpa was deployed in a premium diagnostic center in Vadodara. The diagnostic center was facing challenge in terms of getting radiologists to visit their center and report the scans. Using the teleradiology software the diagnostic center was able to overcome this challenge and provide quality and timely report to the patients."
Client Testimonial:
"I am truly impressed with the cool features of RADSpa's incredibly agile product. I really hope we can hit NUMBER ONE because it is robust, client specific and a complete radiology workflow. Good luck RADSpa - the best CLOUDSpa available in the Universe." - Esteemed customer