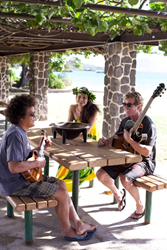 "[the] most exciting and beautiful contemporary Hawaiian music the world knows!"… (Maui Times).
San Rafael, CA (PRWEB) May 27, 2014
The Kanbar Center for the Performing Arts at the Osher Marin JCC bring a vacation night in the Islands to San Rafael. Like the Hawaiian Islands themselves, HAPA's Pan-Polynesian music is an amalgam of influences ranging from ancient genealogical chants to the strummed ballads of Portuguese fisherman, Spanish cowboys, and the inspired melodies and harmonies of the traditional church choirs of the early missionaries.
These separate ingredients blended together musically in the Pacific emotes the unique flavor of what Hawaii and HAPA music is: "beautiful, fragile, spiritual, powerful"… (L.A. Times).
Tickets are available online at http://www.marinjcc.org/arts or by calling 415.444.8000

Ages 17 and under are FREE, no tickets necessary
Subscribe- ALL 5 Concerts $80 – includes early entry to field
Single tickets- $22 Advance/ $25 Day-of.
Reserve a Picnic Table for 8 or intimate Cabaret Tables for 4
Group discounts available.
Audience members are encouraged to wear their favorite Hawaiian shirts or buy one, from the http://www.georgiandwillow.org/home/ pop-up.
The evening will open with a Hula dance performance and lesson offered from Halau Hula Na Pua O Ka Laakea.
The beautiful and safe Swig Field is surrounded by Marin hills and begs for picnicking, but will offer the choice of purchasing delicious as well as affordable meals on-site from San Rafael's own Mauna Loa Hawaiian BBQ pop-up Restaurant. No alcohol is allowed to be brought in, but is available for purchase.
MORE ON HAPA:
Often encapsulated as the "Sound of Maui," HAPA's music evokes a place that many people at different times, have referred to as heavenly. The overriding quality of their music is one of beauty and serenity, found in the majestic tones of the oli (chant), mele (song), the elegant movements of the sacred dance known as hula, and the exhilarating innovative sounds of virtuoso slack key guitar.
SCHEDULE
6:00 p.m. - VIP Table & Subscription Entry
6:15 p.m. - General Admission Entry
6:40 p.m. - Hula Lesson
7:00 p.m. - Hula Performance
7:15 p.m. - Concert Begins
All performances are over before 10 p.m.
The Bay Area Discovery Museum hosts the Kid Zone, offering up an art project along side the playground for youngsters. A Georgi & Willow pop-up shop will offer festival shopping and add to the full Marin community experience.
The Kanbar Center for the Performing Arts is the Performing Arts Department within the Osher Marin Jewish Community Center in San Rafael, California. All are welcome, no membership is ever required to attend. The Center is a long-standing Marin non- profit, centrally located in Marin County and just 1/4 mile east off Hwy 101.
7/12 –African Music Night:
Sierra Leone's Refugee All Stars – African Dance - Sol Food
7/19 – Pacific Island Night:
HAPA, Hawaiian Dance – Mauna Loa Hawaiian BBQ
7/26 –Gypsy Rock:
Diego's Umbrella – Israeli folk Dancing – Millers East Coast Deli
8/2 – Country Western/Americana:
The Good Luck Thrift Store Outfit – Country Two-Step – Casa Manana
8/9 – Indie Folk Rock:
Blame Sally – Yoga! – Sol Food