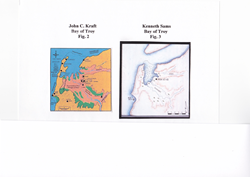 Sacramento, CA (PRWEB) May 27, 2014
The new book 'Atlantis, the ReNamed Island' is based upon the writings of the ancient historians and geographers of the Mediterranean Region. Troy, with Plato's Atlantis Island, controlled the shipping lane known as the Straits of Dardanelle, that was the only sea trade connection between the fresh-water Black Sea and salt-water Mediterranean Sea.
According to Herodotus, Strabo, Diodorus and Pliny, four underground labyrinths were built in Egypt, Crete, Lemnos and Italy. The camouflage changes in 2013 to the Lemnos labyrinth location (photos attached) correspond to the economic upsurge in Greece in 2013, and suggest a connection. The other three labyrinths are still a mystery. The Pelasgians of Crete, the Tyrrhenians of Tyrus and the Etruscans of Italy spoke related unknown languages and were allies in war and commerce. The Etruscans were expert stone builders of walls and tunnels, and were Roman water project engineers.
Ezekiel, Jeremiah, Samuel and Ezra provide evidence that the Ark of the Covenant was seized by Egypt in 924 BC, and shipped by Phoenicians to the Tyrrhenians of Ezekiel's Tyrus Island. Homer and the Greeks called it Chryse, while Plato called it Atlantis. According to Ezekiel, the Tyrrhenians were Phoenicians having migrated from Byblos, Lebanon.
Plato locates Atlantis in front of the Dardanelle Straits, between Lemnos and Troy. Homer's Illiad describes a harbor at Troy. Plato writes that this harbor was within the Straits and was filled in by a shoal of mud, washed away from the surface of Atlantis Island. Sketches of this bay by John C. Kraft, Ph.D and G. Kenneth Sams of University of North Carolina at Chapel Hill are attached.
Heinrich Schliemann escavated the buried Fort at Troy in 1873 and found a cache of gold, but he assumed the treasures belonged to Troy, not Atlantis. The evidence says, look under the 'plain at Troy' for larger gold treasures. A man-made lake on Imbros Island glows white, signifying an underground structure for Troy at that location.
According to historian Robert Anderson, from 1250 BC to 1180 BC, a loose knit confederation of invaders, known as the 'Sea People', destroyed, plundered and burned numerous whole kingdoms in the eastern Mediteranean, including the Hittites, Ashkelon, Mycenaeans, Carchemish, Hazor, Ugarit, etal. Where could they hide all the seized treasures, in labyrinths?
Over 100 photos in the book support the conclusions.
http://www.amazon.com/Atlantis-ReNamed-Island-Joseph-Brady-ebook/dp/B00JMPHZQ6/ref=sr_1_2?ie=UTF8&qid=1398007592&sr=8-2&keywords=atlantis%2C+the+ReNamed+Island#reader_B00JMPHZQ6