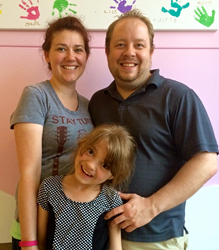 Amazing food, stunning architecture and rich history combine to make Spain entirely gooi.
Ankeny, Iowa (PRWEB) May 25, 2014
Pursuing what he loves, Shawn Sherman, foodie and owner with wife Nicole of renowned Ankeny boutique bakery Bekkwith's Cakery, is taking GooiNation's world tour to Spain. He said he, Nicole and daughter Bekkah are leaving tomorrow (May 26) and will represent Mygooi in Madrid and points north while sharing with the world through photos and videos their love of travel, food and Spanish culture.
Through brand ambassador Sherman, Mygooi, the cloud-based mobile technology brand with headquarters in Chennai, India, and Des Moines, Iowa, is visiting Spain for the first time. Its street team has brought its unique variety of "disruptive" networking to the Netherlands, Germany, France, England, India, China and a range of cities in the United States and is constantly planning visits to additional parts of the world.
"Amazing food, stunning architecture and rich history combine to make Spain entirely gooi," says Sherman. "This is my fourth visit to Spain, and every time I return, I appreciate another facet of this beautiful country. I'm thrilled to represent Mygooi in a culture that I absolutely love. There's no place like it on Earth.
"I became a 'foodie' long before it was cool. Food is an important part of life, and it's best when savored. I love the Spanish people for their hospitality, genuine happiness and enjoyment of life. They have a relaxed approach to life that just feels right, and they know how to appreciate food."
A lifelong traveler, Sherman has journeyed throughout North America and Europe. His affinity for Spain has been fueled by visits to Madrid, Toledo, Granada, Seville, Cordoba, Fuengirola, Benalmadena and the Strait of Gibraltar. Originally from Portland, he married Nicole in Canada. They spent more than five years developing recipes for their successful Cakery, opened in 2011. Their daughter's nickname is Bekkwith.
On the way to Madrid, the Sherman's will pass through Charlotte, North Carolina, where he will hand out Mygooi gear and share photos and videos of his travels.
The Shermans will spend three days sampling Madrid's world-class art museums, such as the Reina Sofia and the Prado, before moving on to Basque country in the north, where five of the world's top 50 restaurants are located. In San Sebastian, they plan to visit Arzak, number eight on Restaurant Magazine's recently released annual list of the world's best restaurants as chosen by industry experts. http://parade.condenast.com/2857ss/iraphael/amazing-photos-from-the-worlds-50-best-restaurants/.
On June 1, the Shermans will travel to Barcelona to spend three days reviewing the architectural treasures of Antoni Gaudi, the grounds of the 1992 Summer Olympics and La Rambla, the city's famed tree-lined pedestrian mall. While there, Sherman plans a pilgrimage to the number two restaurant on the Restaurant Magazine list, El Cellar de Can Roca in Girona, just northeast of Barcelona. http://www.cellercanroca.com/PORTADA/intro.htm.
The Shermans return to Ankeny on June 4.
Follow the Sherman family as it travels to Spain on the Mygooi Facebook page at http://www.facebook.com/mygooi.
Mygooi has target markets in Europe, Japan, China, India and the Americas and will debut its latest mobile platform this spring through the Apple App Store and Google Play.
About Mygooi
Mygooi™ is an energetic brand platform that is digital, creative, disruptive and global. Its mission is to Go Where The Life Is.™ See Mygooi updates and watch GooiNation grow on Facebook at https://www.facebook.com/mygooi.
About Bekkwith's Cakery
Bekkwith's Cakery features specialty cupcakes, cakeballs and specially decorated cakes, fillings and frostings in a variety of flavors. More information at http://www.facebook.com/Bekkwiths.
Media Contacts:
Kyle Eason, Media Relations, US Jon Buscall, Media Relations, International
Mygooi
641-840-9518
Kylee(at)mygooi(dot)com
Jon Buscall, Media Relations, International
Mygooi
+46768637285
Jonb(at)mygooi(dot)com
Shawn Sherman, Brand Ambassador
Mygooi
503-539-4128
shawsherm(at)gmail(dot)com