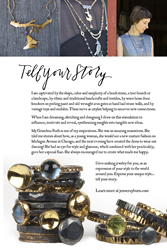 The old-fashioned loveliness and detail of antique jewelry combined with modern design.
Boston, MA (PRWEB) August 31, 2014
Looking for something glamorous, unique, fashion-forward - and original? Visit Jenne Rayburn's new website featuring handcrafted original jewelry designed in Massachusetts, USA. jennerayburn.com.
The online store is the vision of Boston metalsmith, enamelist and designer, Jenne Rayburn, who has been creating her handcrafted jewelry and wearable art since 2010. Whether it is necklaces, bracelets, or earrings - each piece is made with heart and by hand, and personally crafted - resulting in an everyday luxury item that enhances a woman's unique style, individuality and confidence.
Rayburn's high end handcrafted jewelry collections; from the staples (sterling silver chain and pearl beaded necklaces) to the edgy (animal and nature-inspired design), to the signature pieces (oxidized silver, 18k gold and gemstone jewelry), encompass both the classics you know and love and the modern pieces that will be tomorrow's heirlooms. Rayburn has been creating jewelry for her family and friends since childhood, and a lifelong passion has grown into a successful design business - with its popularity extending past the United States serving customers worldwide.
Jenne Rayburn marries the old-fashioned loveliness and detail of antique jewelry with modern romantic design. Using the highest quality materials, including18K gold, sterling silver and hand selected gemstones, and incorporating carefully chosen antique and vintage pieces, each piece is individually handmade by the designer, and either one-of-a-kind or very limited edition. Combining the ethos of recycling with the sustainability of quality durable materials, Rayburn creates jewelry for every occasion, from a fun night out, to everyday signature pieces, to weddings and the grandest events where only the finest will do. Shipping to anywhere in the Continental U.S. jewelry from Jenne Rayburn makes a wonderful gift for any occasion.
Visit Jenne Rayburn's collections -http://www.jennerayburn.com.
Visit Jenne Rayburn on Facebook - http://www.facebook.com/Jenne.Rayburn.
Jenne Rayburn Jewelry now available at Etsy Wholesale.
About: Jenne Rayburn is a Boston-based jewelry/textile artist who also studied interior design and architecture, and her work explores the convergence of architecture, design, technique, and identity. Jenne is known for her designs combining antique jewelry and textiles, findings and components, with contemporary design. It is her hope that the wearers of her pieces will find joy in a delightful artistic statement, and also something that enhances their individuality and confidence. Her work is carried in local galleries and online. Please visit http://www.jennerayburn.com for Jenne Rayburn's online flagship store. For wholesale information, please visit jennerayburn.com/wholesale.com.
###